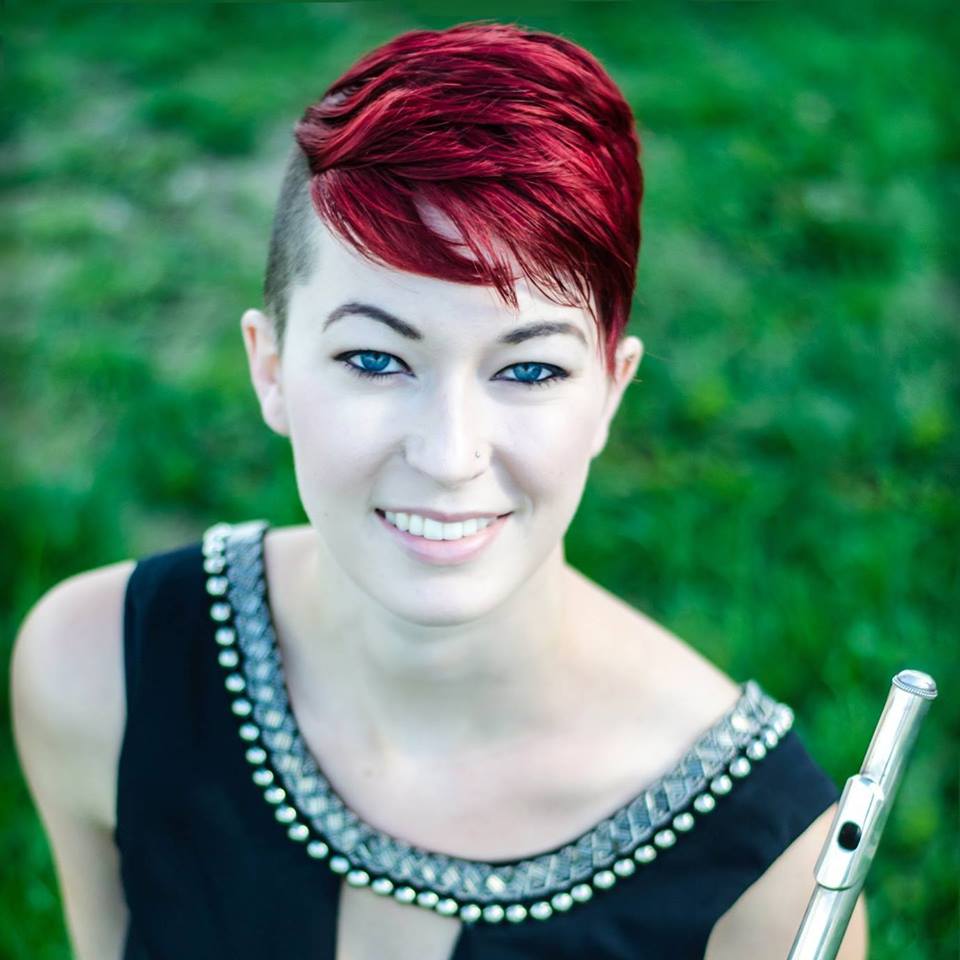 On March 11 at the Kelly Strayhorn Theater, NAT 28, one of the newer Pittsburgh-based chamber ensembles, will present their first annual Pittsburgh Composers' Project concert, combining three scores from established composers with three winning works from their 2016-17 Call for Scores.
We sat down with NAT 28's Artistic Director Zoe Sorrell in advance of the concert to discuss the history of the ensemble and the decisions that led to this multi-generational concert. [Recently, Sorrell also discussed her role as a solo performer in Recital, a new music-focused web magazine from The Glassblock's David Bernabo.]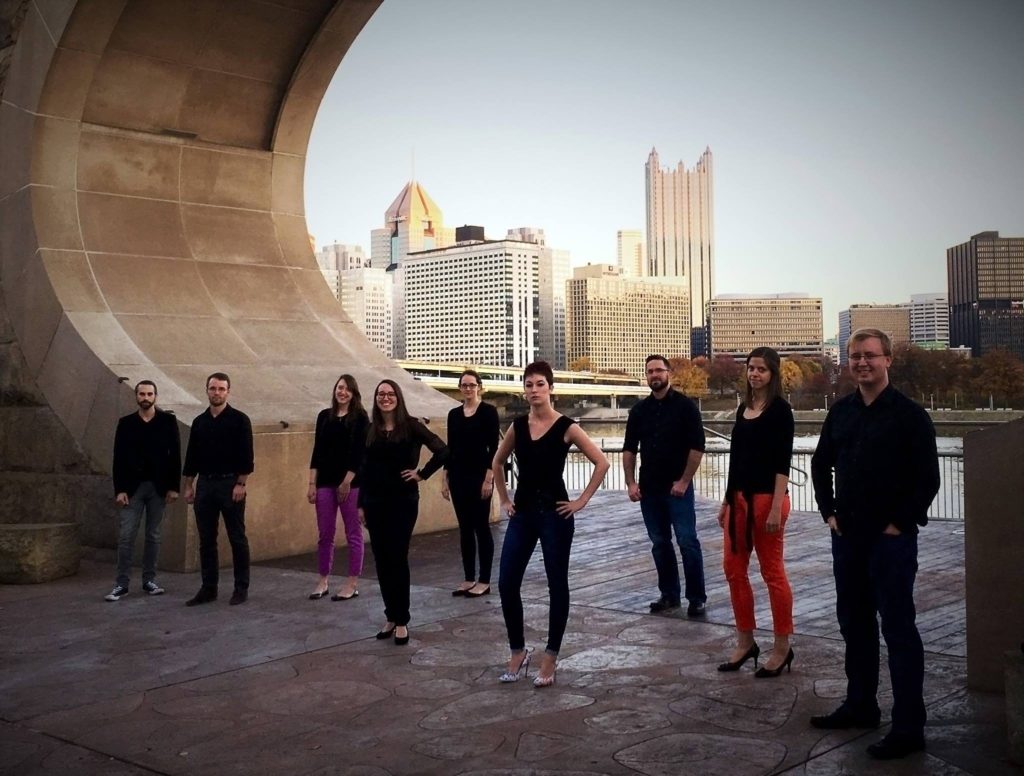 David Bernabo: The upcoming Pittsburgh Composers' Project concert features a mix of younger, up-and-coming composers and more established composers. What was the impetus for developing this concert?
Zoe Sorrell: We spent a lot of the early half of our first season looking at how often people focus on bringing international and New York and Chicago and Boston artists to Pittsburgh: That's a really great thing. But we kept coming across all this great talent in Pittsburgh and thought there needed to be a better platform for amplifying those voices and celebrating those composers. So, we wanted to create an annual celebration where the composer community in Pittsburgh could gather together and support one another.
We started our first call for scores and were really excited to get 30 submissions—all really high quality. We had a panel of both our musicians and outside guests anonymously review the scores. We picked three scores to perform, and thought those would be well-paired with three composers that were already making waves in Pittsburgh. We thought this would celebrate two generations of composer groups in Pittsburgh.
DB: Could we step back and talk about why you started NAT 28?
ZS: I spent a lot of time figuring out what I didn't want to be doing, and early on, I figured out that I didn't want to go into an orchestra. As much as I love going to see orchestras, the idea of being told what to play, where, when, and how was not interesting to me. I had so many ideas about programming and finding venues and finding themes, discovering new music, putting it together, finding out how to sell it—I would rather have been doing that than actually playing the concerts. As I came around to creating a platform like NAT 28, I realized it was the perfect way to live both of those worlds.
The first thing I decided was that I wanted to stay in Pittsburgh. I fell in love with the city when I came here. There are so many cool things going on, but it's not too saturated. People still go to events. You aren't shouting into a void like in other cities. After I decided that, I found the people I loved to play with, and NAT 28 fell into place.
DB: And you are still attending CMU, right?
ZS: I'll be done in May.
DB: Are most of the folks in NAT 28 from CMU?
ZS: I think of the twelve of us, ten attended CMU at some point.
DB: How do you fund the concerts—ticket sales, donations…
ZS: We've been really fortunate in that we've been presented a lot—from St. Paul's Episcopal Church and from Chamber Music Pittsburgh, which have built-in funds already. We also have a Patreon, which has been really great to grease the wheels. So, ticket sales go back into our administrative costs.
DB: I know NAT 28 has only been around for nearly a year. How do you and the other performers sustain the commitment and passion needed for a group like this?
ZS: When NAT 28 started, [the structure] was kind of tiered. A couple of us thought of the group as something that we had envisioned for a long time. Some people were like, "This is awesome, but I have all these other things, too." Because we've had great successes and it's reflected on everybody—we're playing with the musicians of the Pittsburgh Symphony in a couple months and Chamber Music Pittsburgh is presenting us—things are happening, and the audiences have been very rewarding.
DB: With the relatively large number of new ensembles popping up, what goals do you have for NAT 28?
ZS: I'm hoping that people in other cities, cities that are new music hubs, start looking at Pittsburgh and think that it's cool what we have going on here. There's a lot happening here, but it still feels like a well-kept secret. Also, there are so many great ensembles in Pittsburgh, but there hasn't been an organization or structure to how those ensembles create a community. We hope NAT 28 can raise the bar with ensembles having a [formalized] season.
DB: Is there a certain type of composition that is in style now? It seemed like for a while, there were the indie composers—Nico Muhly, Bryce Dessner from The National..
ZS: Yeah, the Sleeping Giant aesthetic…
DB: Dave from Dirty Projectors, that kind of…
ZS: Hipster…
DB: Yeah, hipster composers were in. Do you have a sense of where things are headed?
ZS: Actually, one of the reasons that we decided on this type of concert is because it spans a bunch of aesthetics. That's something that we've kind of struggled with and were asked all the time as we created our identity earlier this season: "What's the aesthetic of the music that you play?"
I think what's so important about contemporary musicians is that they're deciding what should be part of the canon. Composers can write great pieces, but unless someone is championing them, no one is going to hear the music unless some historian happens upon the scores. So, our aesthetic is good music—whatever we feel is good—and we won't limit ourselves to one aesthetic.
We have a piece on this program that I keep joking is the second coming of Steve Reich. It's very minimalist and driving; it has that marimba going all the time. Then, we have a piece by Mathew Rosenblum that has a microtonally-tuned MIDI keyboard, and it's a completely different world. It's expansive.
DB: How do you convey that expectation of diverse styles of music to the audience?
ZS: I think what draws people to our concerts is the quality of players in the ensemble and the conviction of those players, no matter which piece they're playing. We also have a consistent roster of performers, and there's not one person at the helm driving the aesthetic: It's ten people whose aesthetics all come together in this beautiful mess.
DB: Are any of the pieces on the upcoming program really challenging?
ZS: We just started rehearsing this piece by Brian Riordan that won [one of the spots on] our call for scores called "The Moon Is Drifting Away From the Earth, Don't Think About It." This piece has a bunch of microtonally-tuned chords based on the harmonic series of whatever the bass note is, which is such a cathartic and beautiful experience, but such a challenge.
So, say I'm the 13th harmonic of whatever the cello is playing. It's notated as a quarter tone flat [a pitch halfway between the usual notes of a chromatic scale], but not really, because it's going to be 6/8 of a tone flat. You have to listen and try to get the harmonic series in your ear. Things like that have been good for us in terms of camaraderie—sitting on these chords for ten minutes, trying to hear the vibrations that are created.
DB: Is that a fixed-time piece or is it variable or based on improvisation?
ZS: It's not aleatoric, but it will be based on a lot of visual communication.
DB: Yeah, Brian's pieces are really interesting. [Editor's Note: the interviewer plays in the How Things Are Made trio with Brian Riordan]
ZS: Yeah, we all have different apps on our phones that we didn't have before we started this piece.

Program:
Brian Riordan: "The Moon Is Drifting Away from the Earth, Don't Think About It"
Adam Shield: "Intersubjectivity"
Alex Marthaler: "(Un)organized Lightning"
Intermission
Reza Vali: "Folk Songs Set No. 9"
Amy Williams: "Quodlibet"
Mathew Rosenblum: "Two Harmonies"