As part of The Glassblock's sponsored partnership with the New Hazlett Theater, we will be presenting a series of editorially-independent previews and reviews of the 2016-2017 Community Supported Art (CSA) Performance Series. Follow along here, and learn more about how you can experience this season's CSA here.

Soprano Anqwenique Wingfield excelled in her classical education, landing lead operatic roles, traveling abroad, and graduating with a degree in voice performance. But with a deep appreciation for funk, R&B, and jazz—she's the daughter of a jazz musician—Wingfield chafed at the rigidity that sometimes underlined the training. "You have to pick one," she was told, forced to decide between what was presented as two distinct fields. "What do you like more? What are you really into?" So she rebelled: She chose both.
"The truth is, it's all in me," Wingfield said during a recent visit to her home in the arts district along Penn Avenue. As the founder of the cross-discipline collective Groove Aesthetic, studio manager at BOOM Concepts, education director at the Opera Theater of Pittsburgh, and more, Wingfield has carved out a creative space that not so much resists the strictures of her classical training as cultivates it into an original creation.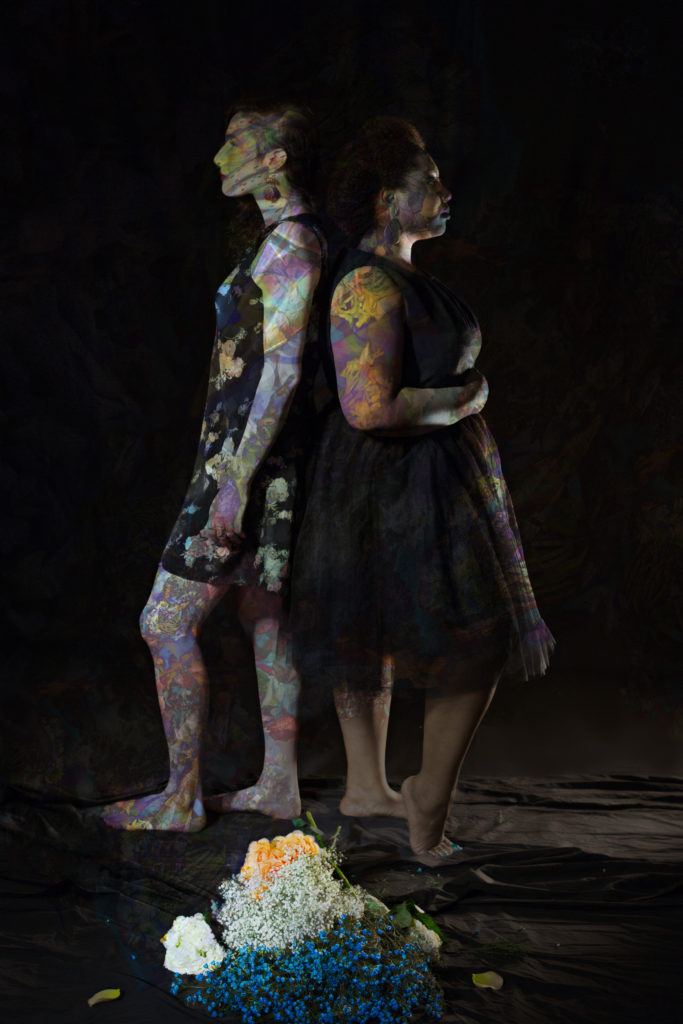 She and video artist Julie Mallis, BOOM Concepts' creative director, are putting the finishing touches on A Love Supreme, the latest performance taking place at the New Hazlett Theater as part of its CSA series, and the two artists, who've collaborated for the past five years, share that urge to reimagine, experiment, and, above all, blend toward the avant-garde—not unlike John Coltrane's landmark 1965 album, in part an inspiration and the performance's namesake, which blended hard bop and modal jazz.
"How do you interrupt the rectangle?" Mallis quips, putting forward a guiding principle for her work. As a visual and set artist, "the rectangle" for Mallis refers both to the physical form—she plays with projections onto surfaces and in shapes that defy the straight-edged box that's so familiar it's hardly noticed—and a more metaphorical concept. "I'm really interested in capturing the audio-reactive stimulation that visuals can create. I want the visuals to be a mirror, a reflection of the sound," and to that synesthetic end she describes a program that will lean heavily on elemental motifs of water, air, earth, and wind. As with Magical Organs, her dual collaboration with artist D.S. Kinsel, Mallis intends to engage A Love Supreme's audience in new ways.
One of those ways, Wingfield highlights, will take place during the performance's final section and centers around the concept of healing. "You have to participate in your own healing" in general, she noted, and A Love Supreme will allow for a moment in which audience members will be able to participate by sharing the names of loved ones who've passed or ancestors who have made an impact on their lives. "Hopefully it does bring forth positive feelings of love," Wingfield said, describing their intention to introduce something beautiful but also, in interrupting the audience's passivity, perhaps challenging.
Whether interruption or reconfiguration, Wingfield describes A Love Supreme as an eclectic, organic performance that intentionally bends between worlds in order to celebrate and spotlight black women in classical music. "There's so much work by people of color and women that isn't celebrated in the standard repertoire," Wingfield shared, and bringing this music to light—"It should be a part of standard repertoire," she stressed—is a driving mission. As one example, A Love Supreme will feature excerpts from Sonnets on Love, Rosebuds, and Death, the 1976 cycle by composer Dorothy Rudd Moore, a co-founder of the Society of Black Composers whose work has been performed around the world. A Love Supreme will also feature selections from the five-piece On the Edge of Night, a work of Wingfield's own in collaboration with composer Daniel Bernard Roumain and literary artist Yona Harvey.
"Once we sat down to talk, vibe, work through things, we found so many parallels that we didn't initially think about, or didn't know existed," Wingfield said about her collaboration with Mallis. "It's constantly unpacking and unfolding. … And it's awesome that we get to live our lives as friends and colleagues, but we get to have this creative exchange as well."
Warmed by hot tea and conversation in the cozy front room of Wingfield's home, we wound down our interview and prepared to head back out into the cold. She and Mallis, meanwhile, had just struck upon the realization of where their joined forces may take them into the future—a music video. "This is not the end or the beginning of our collaboration," Mallis said. "This is a highlight."
"There's so much to do!" Wingfield replied, beaming.

A Love Supreme debuts as part of the New Hazlett Theater's CSA Performance Series on February 16, 2017. Learn more, and get your tickets, here.