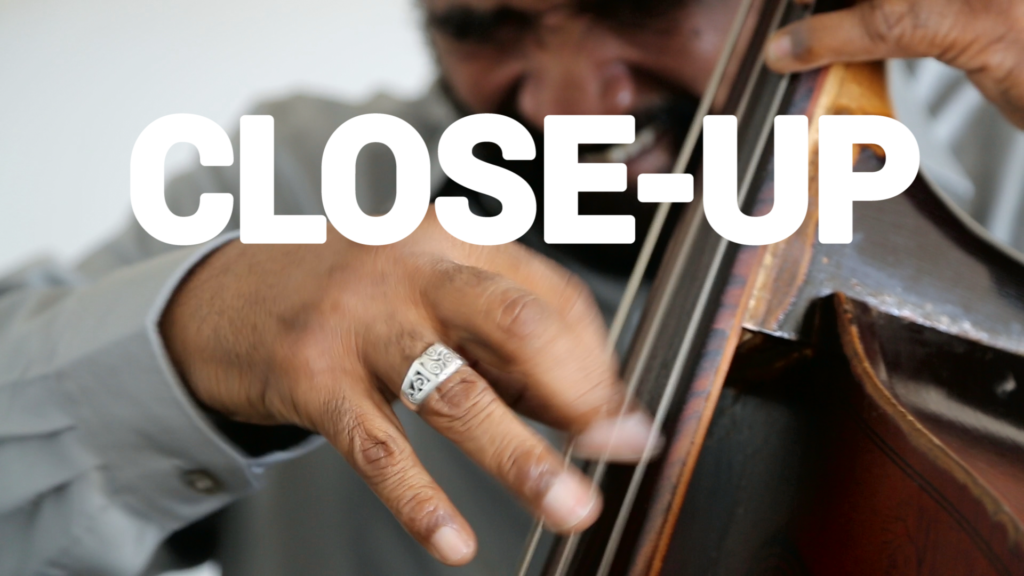 Arrange two cameras in close proximity to a subject. Then press record. Close-Up is both a formal exercise and a video series taking a literal close look at Pittsburgh artists in performance. See more in this series here.

In 1973, Pittsburgh jazz musician Harold Young founded the Jazz Workshop, Inc. as a way to keep the music style alive in Pittsburgh public schools during a time of inadequate music education programs. Operating out of the Carnegie Library of Homewood, a number of local jazz musicians signed on as teachers to educate Pittsburgh youth in jazz history and technique, spawning new generations of Pittsburgh jazz musicians. One of these teachers was Christopher Dean Sullivan, who taught bass and music theory classes.
Now a world-renowned bassist, Chicago-born Sullivan began his music career in Pittsburgh, frequently playing with Pittsburgh jazz greats while hosting and producing the award winning The Tree of Arts Alive television program.
Sullivan, now living and working in New York, has performed with a number of jazz greats—saxophonist Archie Shepp, free jazz multi-instrumentalist Charles Gayle, one-time John Coltrane sideman and influential trumpeter Freddie Hubbard, and others. Recently, Sullivan has been working with a quartet revisiting the early '70s music of Herbie Hancock's Mwandishi band. In 1971, pianist Herbie Hancock expanded the socially conscious music on 1968's The Prisoner with a trio of records blending acoustic and electronic instruments and American and African musical forms. At the time, electro-acoustic exploration in jazz was just beginning, and Hancock's music is a stellar exploration into that open field.
Sullivan's quartet—including pianist Bob Gluck and original Mwandishi band members trumpeter Eddie Henderson and drummer Billy Hart—pick up the torch held by Herbie Hancock all those years ago, adventurously investigating the intersection of world musics. "I call jazz the American World Music genre," Sullivan says, "because in jazz, all music is intertwined in this world music. It's a constant evolution."
For Close-Up, Sullivan presents two solo improvisations, the first of which is "The Moment of Now." Watch this first part below, and check back later this week for a second piece and discussion on what has changed in Pittsburgh and in jazz.