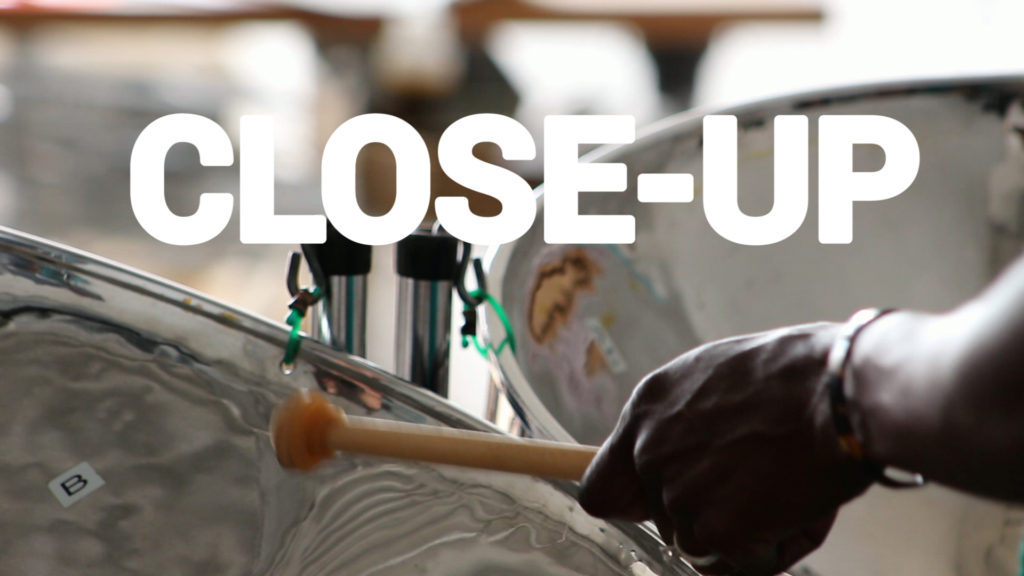 Arrange two cameras in close proximity to a subject. Then press record. Close-Up is both a formal exercise and a video series taking a literal close look at Pittsburgh artists in performance. See more in this series here.

Matthew Docktor, Leigh Solomon Pugliano, and Brett Staggs make up Pittsburgh-based steelpan and percussion band Rhythm 'n' Steel.
Originally built from oil drums, the steelpan is a musical instrument developed in Trinidad and Tobago in the 1930s. The steelpan is not just one instrument but an entire family ranging from tenor or soprano to bass—and each one is able to produce every note in at least two scale octaves. "Together, they are called a steel band or steel orchestra," Pugliano explains. Below, for the first of a two-part Close-Up segment, steel band Rhythm 'n' Steel performs "Perfidia," with Matthew Docktor taking the solo on lead steelpan.
Pugliano comes from a family of steelpan players. In 1984 her father, Guyanese steelpan player and maker Phil Solomon, moved to Pittsburgh and founded Solomon Steelpan Company, the first of its kind in Pittsburgh. In 2014, Pugliano founded Barrels to Beethoven, an organization dedicated to steelpan preservation, education and innovation. The organization works to promote steelpan history, Caribbean culture, and the instrument's manufacture, performance, and technique.
Rhythm 'n' Steel is participating in this weekend's Dream City Art walking tour in Wilkinsburg, performing at a one-day pop-up exhibit at 909 West Street—see the schedule here.