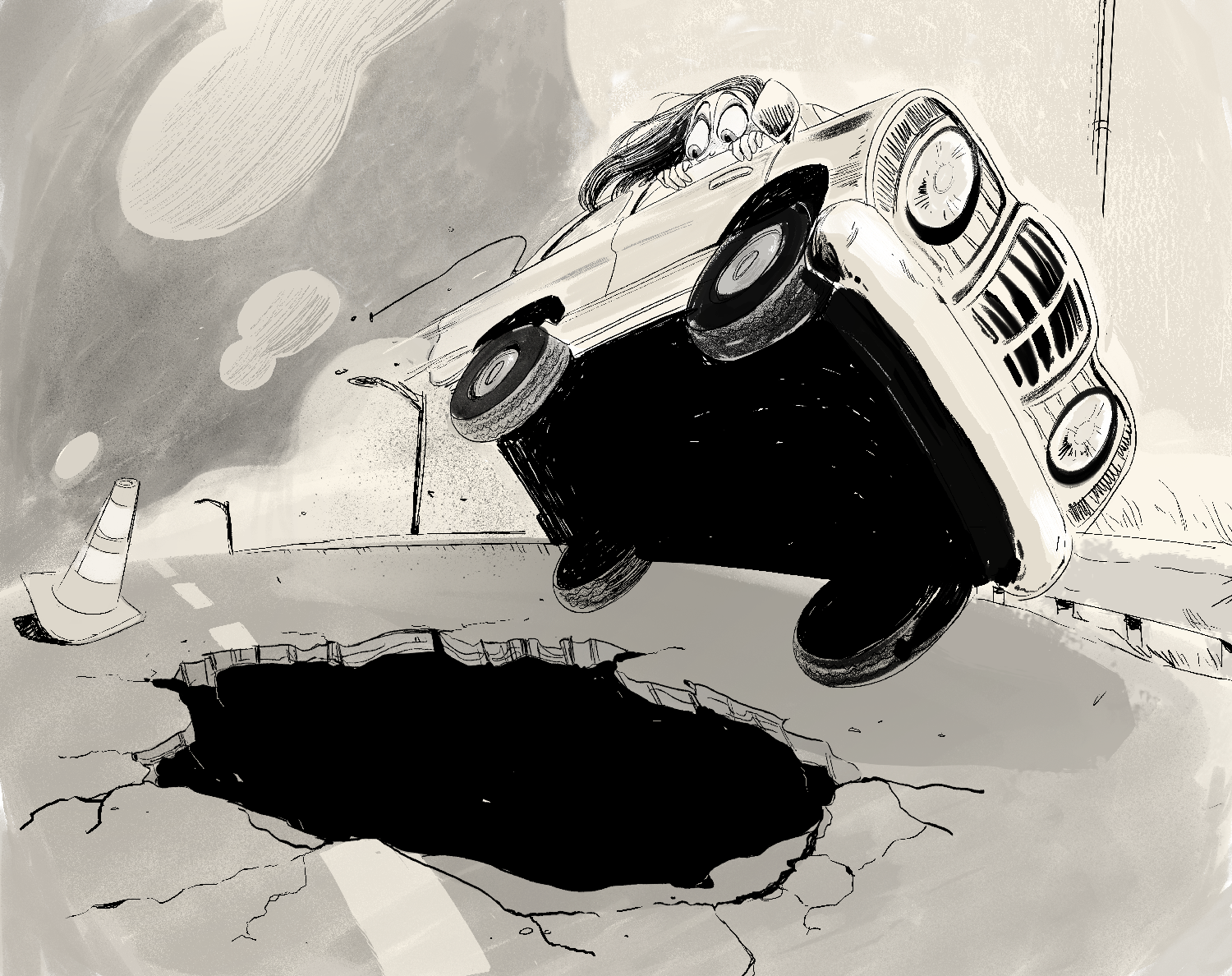 THE PITTSBURGH LEFT.
The practice in which a left-turn-indicating motorist stopped for a red light at an intersection performs their turn before opposing traffic drives forward on the green light, sometimes granted via hand wave or headlight flashing.
THE POTHOLE SWERVE.
Self-explanatory.
THE MERCY MERGE.
A nervous driver attempting a merge onto a highway is given the chance to do so at a stately pace as other cars move into the left-hand lane to allow a space.
THE SQUIRRELLY INDECISION.
That dance that happens on the Parkway just before the Squirrel Hill exit in which several cars decide that they do not actually wish to go to Squirrel Hill after all, while a few other cars decide that they definitely do, and a couple of cars, for no apparent reason, decide that while they do not want to exit, they do, in fact, want to be in the other lane while traveling through the tunnel.
THE FORT PITT HYSTERICS.
Whatever the hell happens on the Fort Pitt Bridge just before the tunnel.

THE STRIP CRAWL.
The laboriously slow parade of cars seeking out parking in the Strip on a Saturday around 11:30 a.m.
THE ENLIGHTENMENT.
A psychic realm of existence in which motorists recognize that bicyclists are legally allowed to share the road with them, accepting that this may mean temporarily maintaining a speed of 20 miles per hour instead of 25. (Also see THE UNDERGRAD FORGIVENESS ACT).
THE PENN AVENUE USED-TA-BE.
The flustered state that occurs when a driver has not yet fully realized that, after the installation of bicycle lanes years ago, Penn Avenue is one way downtown.
THE FUEL SURGE.
Exiting a Sheetz or GetGo at 55 miles per hour in an uncontrollable post-fueling high.
THE FRICK YULETIDE SLOWDOWN.
The slowing of vehicle traffic along Fifth Avenue as drivers ogle the mansion's Christmastime decorations.
THE PITTSBURGH LOYALTY PROGRAM.
Allowing a driver to pull out in front of you because they are sporting a local team's logo. Alternatively, refusing to let a driver do so because they're wearing a Cards or Ravens hat.
THE UNDERGRAD FORGIVENESS ACT.
The moment at which, after the split-second of an Oakland pedestrian suddenly darting across traffic, the driver chooses to let go of their anger. (Also see THE ENLIGHTENMENT).
THE CARNEGIE LIFE DECISION.
The suspicion that quite a few Pittsburghers have ended up planting roots in Carnegie because, after a few wrong turns during a rush hour one day, it was determined easier to purchase a house there and stay.
THE NORTH SIDE FLING.
Miss a turn and suddenly you're in Etna.