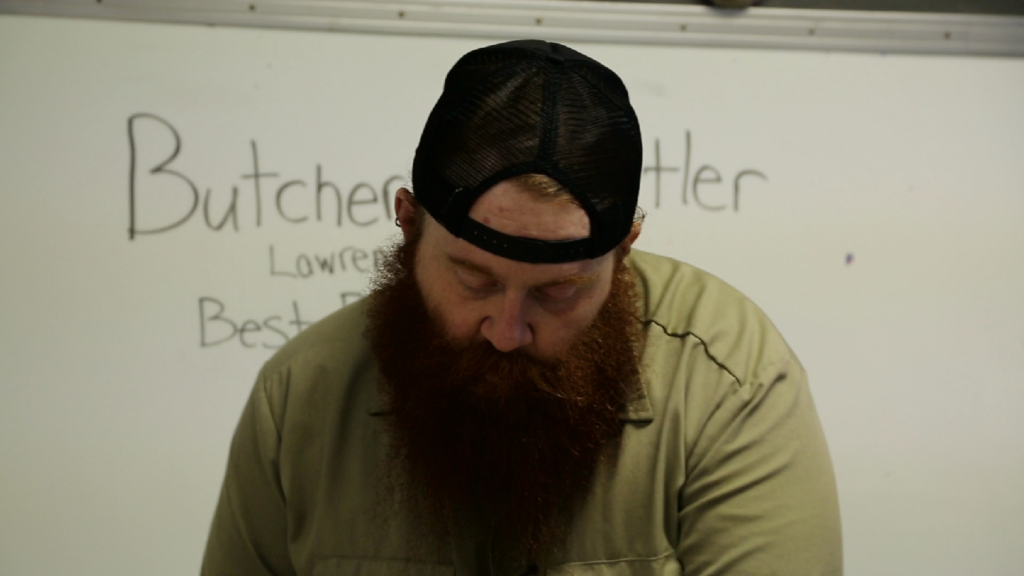 This video of Butcher on Butler Michael Rado breaking down an Elysian Fields lamb is an extended cut from Food Systems, Chapter 3: The Ecosystem, premiering tonight at 7:30 p.m. at Row House Cinema in Lawrenceville. In this chapter, take a ride with regional farmers discussing their joys and hardships. Peep the lifecycle of farmed trout. Learn how fracking can leave particulate matter on your vegetables. Watch as Penn's Corner Farm Alliance's founding members recount the early days. Make cheese with Hidden Hills Dairy. Hear about Trevett Hooper's journey to make Legume's meat 100% local. Watch the trailer here. And grab your tickets here.

After years working at high-end restaurants helmed by Daniel Boulud and Joël Robuchon, Michael Rado wanted a job that provided more time for family. The old Foster's Meats building on Lawrenceville's Butler Street, left vacant after Bruce Foster's passing in late 2012, provided this opportunity for Rado while also allowing him to make a transition from cooking to butchering. In 2014, he opened Butcher on Butler with the intent to "[serve] handcrafted, local, fresh, and cured meats to Pittsburgh's historic Lawrenceville neighborhood." In our "extended cut" 40-minute video below, follow along as Rado guides us through his breakdown of an Elysian Fields lamb.
Elysian Fields is located in Ruffs Creek, PA, but you could say that renowned chef Thomas Keller really put Keith and Mary Martin's farm on the map by showcasing their "Pure Bred" lamb at The French Laundry, the Napa Valley restaurant that's arguably one of the most influential in the world. In his The French Laundry Cookbook, Keller recounts how Keith Martin once asked a worker to lie down in a stall "when their bedding was foul" to illustrate the importance of clean hay. Since then, Elysian Fields lamb has become prized by high-end chefs and diners across the country.
But before Keller's endorsement, Pittsburgh diners were enjoying the Greene County-raised lamb at the Duquesne Club, where executive chef Keith Coughenour has been serving it since 1996. Later, the now-closed Centre Avenue eatery Baum Vivant and Shadyside's tucked-away Cafe Zinho, two restaurants that centered around chef Tony Pais's cooking, frequently offered different preparations of the lamb. And Laforêt, the Highland Park restaurant that numbered among Pittsburgh's best before closing in 2007, included on their menu, among other regular preparations, "noisettes of Elysian Fields lamb accompanied by sweetbreads and a timbale of breadcrumbs."
Elysian Fields's much vaunted livestock, coveted by Michelin-approved restaurants around the country, can be available to Pittsburgh home cooks as well. Just ask Michael Rado. Establishments like Butcher on Butler represent an important node in a network committed to bettering our local food system: Farmers are incentivized to continue to produce humanely-raised animals because there is demand from the butcher shop, while consumers consumer can rest easy, trusting the quality of their food and knowing that their dollars are directly supporting local, ethical businesses.
This is a segment adapted from David Bernabo's multi-part documentary Food Systems. See more extras from the ongoing series here.