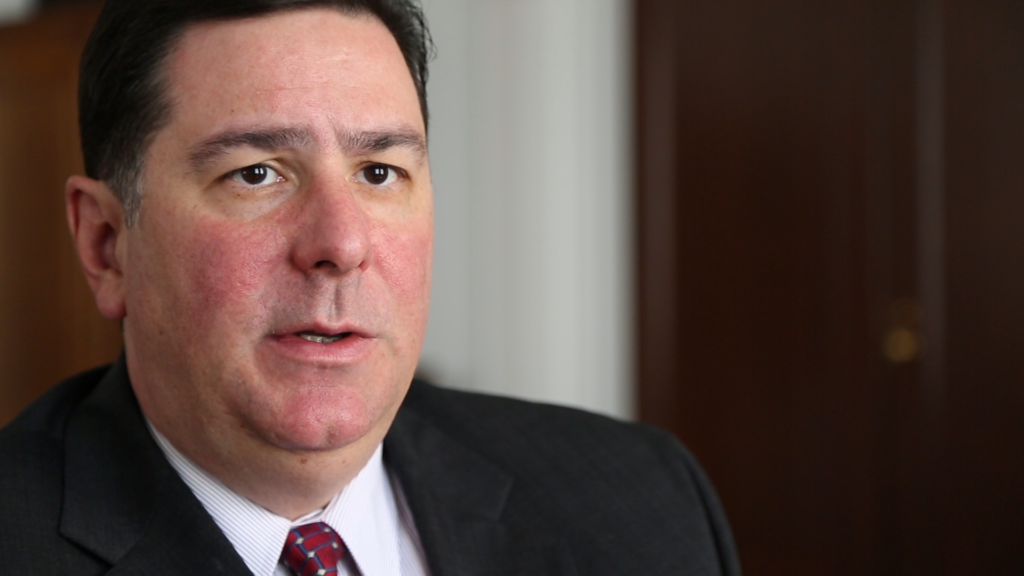 On the morning of the day before Thanksgiving, Mayor Peduto welcomed us into his office, a large, warm, sunlight-filled room on the fifth floor of the City-County Building. Outside, muffled by thick window panes, some nearby bells chimed the hour; an ambulance siren rose from the churn of the street below. We set down our coats and bags, and Peduto, spry and eager, began introducing us to a variety of art pieces adorning most of the room's free wall and tabletop spaces. One by one he pointed out oil paintings, a downtown skyline diorama, some pencil sketches of his likeness, and a particularly Gothic wooden lectern with an apocryphal history. We sat around a low coffee table, and atop stacks of magazines and municipal budget binders was another token—a copy of The World According to Mr. Rogers, a posthumous compendium of Fred Rogers's gentle philosophies. "I brought this in after the election," Peduto shared with us, "and every time I get down, I read it."
Below is a lightly edited transcript of our conversation with the Mayor on his feelings about the election, his forecast for Pittsburgh on the eve of a presidential administration that's equal parts menacing and uncertain, and the political landscape ahead.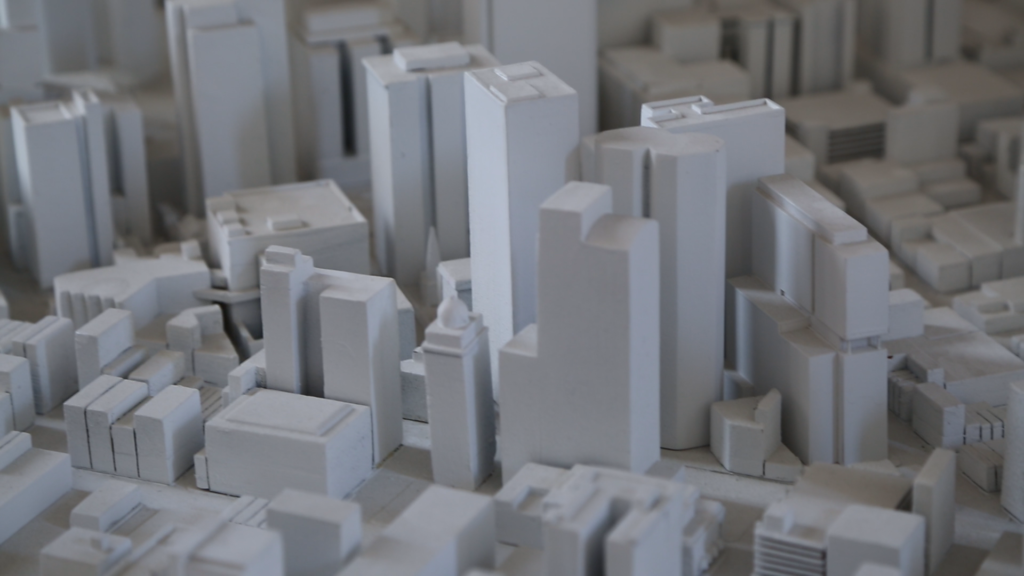 Adam Shuck: You put out a statement [a week after the election of Donald Trump] reassuring Pittsburghers on where you stand. Can you describe the sentiment on Grant Street, and your conversations with the County Executive or the Governor, the minute after, the day after, and now weeks after the election?
Mayor Bill Peduto: I think there was a numbness; it wasn't just an immediate hit. It was trying to realize, is this really happening? Is there another option? And then sort of a slow process over two weeks of trying to figure out what this is going to mean. I don't think we really even know what it means yet. … There's so much uncertainty that there's more of a numbness than anything else.
Conversations with the County Executive have been about how we reassure the most vulnerable and those who [have been], basically, targeted during the campaign that Pittsburgh is a welcoming community for them.
I think of a seventh grade girl in Peters Township who is Muslim. What is it like for her? What types of words does she need to hear to understand that the place she calls home—even though it may not be in the city—is a place that says, yeah, we like you, and you're welcome here. I've heard of three cases within 72 hours that happened within the city's borders—not confirmed, no police reports—that really raised my concern about people thinking that because of the outcome of the election, it was OK to do things that are not OK. So that was the immediate part.
The second part was: The County Exec and I have been talking about how we bring a much larger community into this. How do we make it so it's not just two white politicians talking about how this is a welcoming community, but [that] nonprofit leaders, corporate leaders, labor leaders, religious leaders from all faiths—everybody—saying with a much larger voice that hate will not be tolerated? That's the immediate concern.
On the policy side: I've met twice with the Governor since; we've talked about how we might be able to partner on some things, like creating a fund for Pre-K that would be matched by funds we would raise through new revenue sources; being able to look at some different programs on workforce development; and, basically, executive-to-executive [action], much like the Obama Administration did.
"The election is the clarion call."
We [at the City] intend to go full force with everything that we've done these past three years and increase it. We want to do more on affordable housing, taking the recommendations of the task force and creating a trust fund. We want to look at creating the Rec2Tech program for kids and making it city-wide and permanent. We want to be able to implement a Pre-K program for every three- and four-year-old in the city.
But we're probably not going to have federal partnership in doing that. So that means that the whole idea of PILOTs [payments in lieu of taxes], from major nonprofits, has a new focus. There's always been this focus, though we've always said we weren't going to put it into the general operating budget. But now we have more of a reason to tell universities and hospitals, we need you to be our partner with this, on this vision we have for the city.
We need to go to the corporate community. We have to be able to have one vision. My job becomes salesman and fundraiser. And we need to work with the Pittsburgh foundation community. The Pittsburgh Foundation, Heinz Endowments—their campaigns are on the direct parallel to what we're doing, and we have to bring them together. And we have basically a year to do it.
The election is the clarion call: It says, if we're going to stay on track in Pittsburgh, we may not be able to do it with the partnership of the federal government, but that doesn't mean that state, county, city school, foundation, corporate, nonprofits can't do it.
AS: To that point, it sounds like the priorities aren't going to be changing radically—
BP: I'd say we're upping it. We were going to put together the agenda that we've been working on. In January [2017] we have our Resilient Cities report due to the Rockefeller [Foundation]. Our report, [regarding] the shocks and stresses to be looked at in the future of this city, is [on] disparity. In some other parts of the world, it may be tsunamis, or in New Orleans it's levees. [In Pittsburgh] we have infrastructure issues. We have economic issues—and it's been quantified— real disparity. So these programs we talk about are ways to lessen disparity so that there won't be that shock. That report then becomes the blueprint for going forward over the next five years.
AS: Can you give a sense of, up until now with the Obama Administration, how much were you relying on that kind of federal, material support—how much will be going away?
BP: A lot. And mainly with the most vulnerable.
I heard this morning that Ben Carson is being considered for the head of [the U.S. Department of] Housing and Urban Development. [As of today's publishing, Carson, who once called fair housing a "communist" policy, has indeed been nominated as secretary of HUD]. Julián Castro, [current HUD secretary under President Obama], was a mayor who worked on housing initiatives and who was somebody you could met with personally and talk about specifics, and he understood all the programs that would be made available. The Choice Neighborhoods Program is absolutely the reason that Larimer is being invested in again. Without, it wouldn't have [been]. And we were a finalist for the Choice grant for the Hill, for Bedford [Dwellings]. The paperwork [establishing Bedford Dwellings] was signed by Franklin Delano Roosevelt before World War II—that's how old these housing units, which were made as temporary housing, are. I don't know if we're going to have a Choice Program after this. My Brother's Keeper, ending veteran homelessness, all these different initiatives—there are about a half dozen that we're a part of, and I'm not really sure if they'll be there.
But, more importantly, Community Development Block Grants [CDBG]. They not only fund low-income neighborhoods and programs [for people who] find themselves at the bottom; they fund the organizations that help them. If that all disappears—and there's been talk about eliminating CDBGs—there is no safety net. That is the safety net. We've worked with the [National League of Cities] and other groups in D.C. to find the 2,000 kids in this city who don't have health insurance. What good is it if there isn't health insurance for them? Those are the concerns.
For most people who live [at] middle income, I don't know if they'll see much of a change. But to those who live at the bottom, it could be devastating. And we don't have the resources in our budget to make it up. And that's why, again, it has to be a clarion call to everyone in Pittsburgh. If we're going to be that Pittsburgh that is able to bridge the gap, it's going to require that everyone takes part.
AS: You've long been a champion of the power that cities have over themselves or for their regions. You frequently speak with other mayors and executives who are in charge of these urban centers. What can we expect, given that not too much has changed on the state level—other than now there's a veto-proof majority? Our hands are frequently tied by the state. Can you talk about Pittsburgh's relationship to the state? What levers can we pull?
BP: Two things: firstly, with state relationships, it's common around this country [to have a] blue city and red state. If you talk to any other mayors, they'll ask, what's your agenda in your state capital? And it's "cause me no harm." It's just—
AS: Defensive.
BP: Yeah, basically: Don't pass laws that would hurt my city. There are very few states I know of that have a proactive, pro-urban agenda. Pennsylvania's no different. Our agenda becomes a little bit more mundane: dealing with issues like pension reform, because we'll never be able to get the type of reform that we'd like to see on social issues like gun control or other issues, on a state level.
"I've made it very clear that Pittsburgh police will not be used as federal agents against the people who live here."
When talking with other mayors, the issue that we have the most ability over, regardless of who's in Washington, is environmental issues. We can put together initiatives which would allow us to lower our carbon footprint. The second is our ability to be compassionate, to be able to lessen the rhetoric of hate, and be able to respond to it.
But where it's really going to be tested is on deportation. If the federal government mandates that local law enforcement must round up suspected "illegal immigrants," number one, that would be the first time in American history our local law enforcement became federal officials. Second, it would probably break the laws of the Fourth Amendment. And third, it would break what all cities do, which is, if somebody's coming in for a cat license, we don't ask them to show that they're American citizens. If we're tested [by an administration] that is demanding it, and [if] mayors are told that if they don't enforce it they'll be arrested, that's where the test will be. I've made it very clear that Pittsburgh police will not be used as federal agents against the people who live here.
[Last week, Nick Keppler reported for PublicSource that Pittsburgh City Council may, per an anonymous source, be considering legislation that would expressly designate Pittsburgh a "sanctuary city," which, were it to pass, would codify what has been a working practice for the Bureau of Police to refrain from proactively contacting federal Immigration and Customs Enforcement officers for the deportation of undocumented immigrants. A petition circulating online has accrued over 2,200 signatories.]
That's going to be, I think, one of the biggest tests [in which] we don't have much control. [In terms of the] environment, I think we'll be OK.
AS: Why?
BP: Because we can put in place our own local rules.
AS: What gives you the power to do that as opposed to for other priorities?
BP: I can work, like we are now, with Google and Peoples Natural Gas to find out where the methane gas leaks are the greatest, one of the largest contributors to climate change, and we can find these leaks and replace those pipes. And there's nothing Washington can do to say no, you can't do that.
We can find where the rivers of carbon are in the city, reducing and changing bus fleets to electric; and creating electric charging stations powered by solar; [and] work with developers to create net-zero housing. We can set strict goals where we need to be year by year, and in the end we won't only save the environment, we'll save tax dollars.
David Bernabo: Is that enforceable if your partners decide not to collaborate with the city?
BP: No, it's not, but I think there's enough partnership within the city to see it done. It's almost as if cities are in a competition to see who can do the most. [The incoming Trump administration] can lessen the rules on environmental regulation, and that will hurt, but they can't lessen the willingness of cities to go the opposite direction.
AS: Looking to the future, when we think about the issue of preemption—the fact that Pittsburgh as a city is subordinate to what the state allows us to do to regulate, to pass new laws, to raise new revenues or whatever—Is it totally off the table given the legislature? Are there judicial ways forward?
BP: I haven't found any crack in the armor to be able to find a coalition of Democrats and Republicans [in the State Legislature] who would work on a pro-city agenda for Pennsylvania.
DB: After the election, has Pittsburgh's stance on refugees changed?
BP: I think what's going to happen is that it's going to be harder for the United States to participate in the refugee program. We're one of many nations that follows the UN protocol, and unlike the rhetoric that [alleges that] people just get on a boat and come over here, there's a long process that needs to be done before someone can call the United States home. My concern is we're just going to pull out of it, which would then make it very difficult [to continue resettling refugees].
One thing I want to talk about too is what happens in politics. Now, you see a Republican party that isn't dominated by the "alt-right," but is influenced by it. And what we're starting to see right after the election is the splitting of the Democratic Party. There's going to have to be a healing so that it doesn't split. There will be an "alt-left," and we've already seen it—
AS: What do you mean by "alt-left"?
BP: A push to further than where the [Bernie] Sanders campaign was. An uprising within the Democratic Party saying that we need to go even further than what Sanders had talked about. I think that the only way to heal that is that there needs to be people from the left who are put in leadership positions. And I don't know if that will even be enough. I think that you may see over the course of these four years a growing separation on the right and left, and I can't think of a time when that happened at the same time.
"The only way to take back the White House is to have more votes than the other side, and to do that will require … new leadership … but also an agenda that listens to all."
AS: You mean both splintering?
BP: Yeah. I can think of times when the right went, or the left went—you can look at the '60s and early '70s with the left, or the '80s with the right—but I can't think of a time when both did it at the same time. I don't know where that leads to, but the only way to take back the White House is to have more votes than the other side, and to do that will require, probably, number one, new leadership on a federal level, and potentially state and all the way down, but also an agenda that listens to all.
AS: How do you see your role in that coming political landscape?
BP: I don't know yet. I mean, this is really somewhere where I think people like [New York City mayor Bill] de Blasio have a national role. His city's economy is as big as a nation's. I've talked with him throughout this campaign; he was the one who put together the Working Families' Agenda that mayors signed onto [The Working Families Agenda was actually championed by Minneapolis mayor Betsy Hodges in 2015], saying to Hillary [Clinton] to adopt [it] early on, and it wasn't really until after a couple of Sanders victories that the campaign then started to shift towards talking about those issues.
I think that it still isn't on the agenda for the Democratic National Committee. And if it does become part of an urban agenda, and mayors like de Blasio and Betsy Hodges in Minneapolis and [Ed] Murray in Seattle, and Nan Whaley in Dayton, Ohio, and in Pittsburgh start to say this is what we need to see, it could have a healing effect.