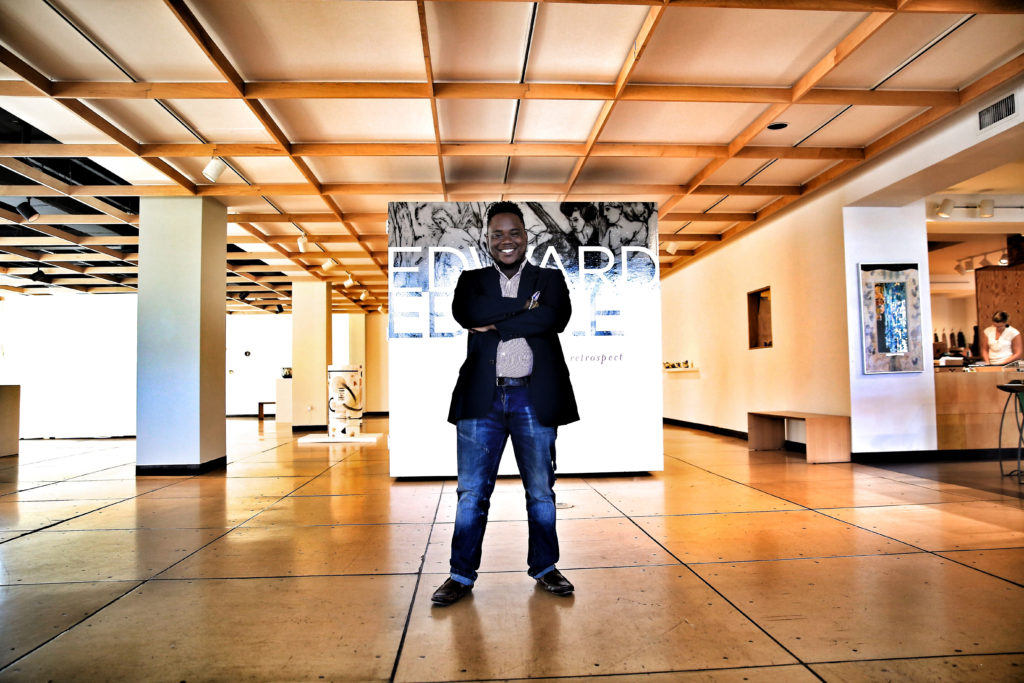 A month into the Society for Contemporary Craft's Emerging Black Arts Leaders Apprenticeship, Corey Carrington is still adjusting to the amount of attention he and the job have received: It is, after all quite a task to be the first person to fill the position. After a study from the Andrew W. Mellon Foundation discovered that only 4% of the museum staff demographic are African American—and recognizing that it ties into their mission of engaging with the community through art—the Society for Contemporary Craft (SCC) created this year-long paid position. For Carrington, who has worked in community outreach, education, creative writing, and performance, it was a perfect fit. After a short tour of the museum and its workshop spaces, I sat down with Carrington to chat about his last few weeks, his identity as an artist, and his future direction.

Patrice Desirae: What do you see as your role as the first Emerging Black Arts Leaders Apprentice?
Corey Carrington: I believe my position is to reinvigorate black people's interest in the arts—as far as being employed there. Black people are known for entertainment in the arts [or] in sports but are lacking in being behind the scenes, like owners, curators, and people who can actually control the perspective and the conversation. I believe my position is to put black voices in unfamiliar territory.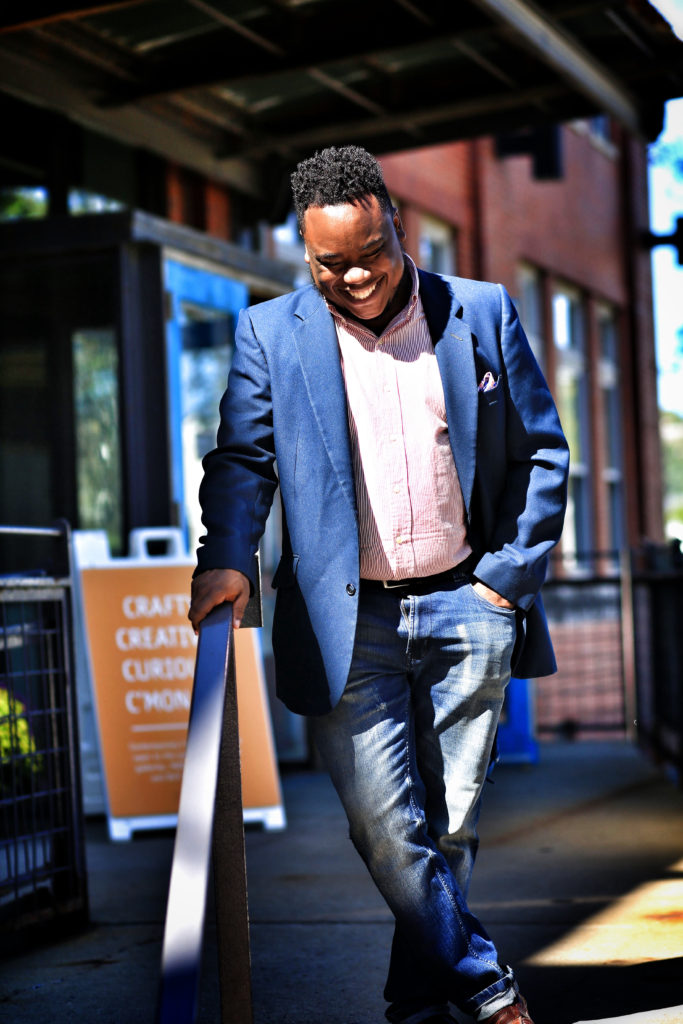 PD: What does a day-in-the-life look like foryou here at SCC?
CC: I started about [a month] ago on a Wednesday, and that Friday there was an opening for Ed Eberle upstairs—so I ended one job [with the Three Rivers Arts investment board] on a Friday, and then the next Wednesday I started here. I've just been going and going, working, and  becoming more accepting that I'm going to be the only black man in a lot of situations. I'm the only black man here. The only man here. It's cool; it's different… in the sense of working with a bunch of different women who have different experiences and come from different backgrounds. [I'm seeing] a different side of the art world. I'm used to being in the visual art and spoken word scenes, so to be in the craft scene and to see different people and different art is kind of cool. I'm seeing what people like, what people don't like, and what speaks to people. It's a different experience.
PD: What do you envision for your year?
CC: When I am done I want there to be established relationships between the SCC and different communities of color. I want to connect those communities to SCC, and I want them to know that this is a place that is open to you and available to you. This is something we can learn and use to our benefit. I'm really just trying to learn different things and put it all together so I can help and lead the way for other people—and me too.
PD: Can you talk about your artistic identity as "Grits Capone"?
CC: Grits Capone says the things that it might not be acceptable for Corey to say. I use Grits Capone as a vessel for ideas that might not be as powerful coming from Corey. I like to mix high and low ideas. I graduated from [Slippery Rock University in 2011] with a degree in communications and writing, so I know how to write poetry classically. But at the same time, I know how art and poetry and certain things that are deemed as "academia"—people from our community shy away from it sometimes because it's seen as, "Oooh he can't relate to the struggle or the streets." I connect with the streets and people who come from different backgrounds who may not like poetry, or may say, "Why would I want to go to a gallery?" This is for the homeless guy, this is for the person who gets welfare and social security, this is for the person who has been to jail. It's for everybody. Art is for everybody. Everybody can enjoy it. Everybody can create it.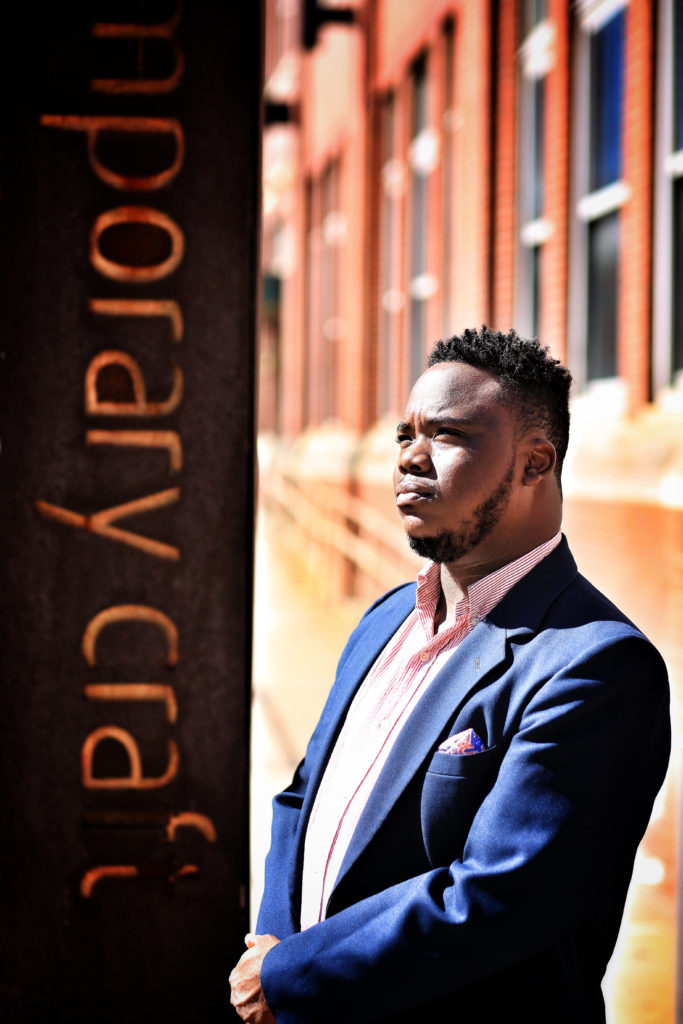 PD: What is your take on the larger museum and arts education landscapes in Pittsburgh?
CC: It's a very interesting place. It's growing. It's definitely blossoming. But I think there are not enough spaces for black people. There is not enough collaboration between the private sector and artists—meaning there is a lot of opportunity for beautification or just genuine bettering of communities [through the work of] artists, but I don't feel like our politicians really have a hand on that. There are just a lot of problems in our communities that I feel can be solved maybe not directly with art, but by utilizing artists to alleviate some of those situations. But I don't think some people are that forward thinking yet. So, basically I feel that black artists are under-utilized and under-appreciated.
PD: Where do you see yourself going from here?
CC: I want to do a really good job here and leave them with a couple of tools. I'm debating whether I want to move out of town. I love Pittsburgh, but I feel like this is the perfect opportunity to springboard me into maybe going internationally or somewhere else. So, I'm torn between wanting to stay in Pittsburgh and do more here versus taking what I've learned and being able to climb up the ladder.  I want to be in the museum sector or in the art department in some type of higher education situation.
PD: Is there anything else you'd like to share?
CC: I feel like it needs to be said: What the police in America is doing is wrong, and Black Lives Matter. It's been difficult for me in recent weeks—I feel like all these good things are happening for me, but at the same time I haven't really been able to enjoy them as much as I can when there's things going on out there that are real. My getting these opportunities doesn't separate me from anyone; I could go outside right now and have a run-in with a police officer, and it could be unfortunate. But my doing all of these great things doesn't prevent that from happening. I feel like no matter what position you're in, we as Black people should be socially aware and speak on those things.