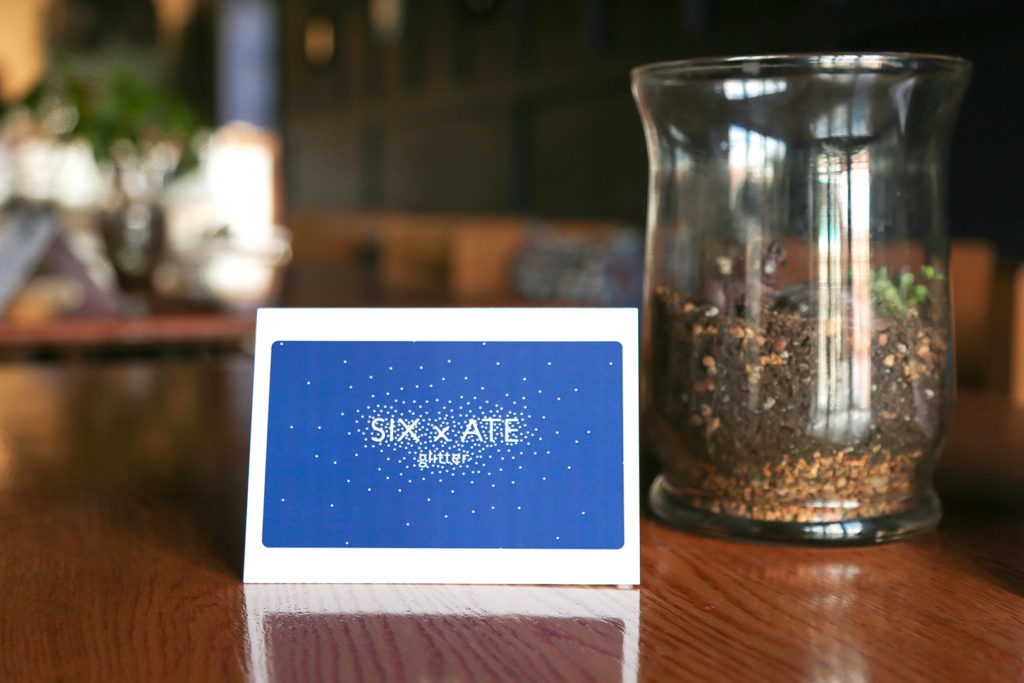 A project of artist and cultural producer Casey Droege with Johanna Lasner, pop-up event series SIX x ATE pairs six artists with a chef-prepared meal for an interdisciplinary presentation/performance event that responds to a given theme. Past themes have included "Cut and Paste," "Seer/Sear/Sere," and "Vegetable." On a sweltering evening last week, I prepare to attend the first event of the fifth SIX x ATE season. The evening's theme is "Glitter," and the event is taking place at Scratch Food and Beverage in Troy Hill. What follows is an account of how the evening unfolded.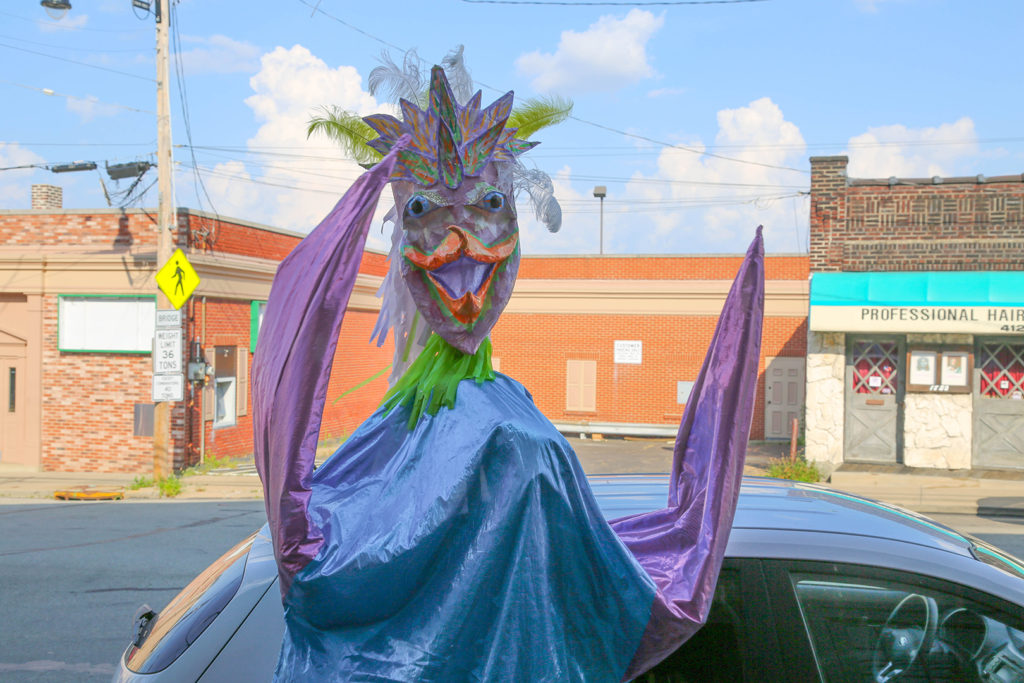 5:00 PM: Prepping for SIX x ATE
I'm incredibly hungry but decide against digging into the fruits of my Penn's Corner CSA to make some form of tartine. Knowing that I'll be eating soon, I settle for an energy bar.
I'm in the middle of a Miles Davis kick, sequentially working my way through his catalog. And since I consider Davis's second "great" quintet era (1965-1968) the best music for absorbing new ideas, I pop in my 1990 reissue copy of Filles de Kilimanjaro and let it take me to Troy Hill for tonight's SIX x ATE.
6:08 PM: The Arrival
Scratch is split into two main rooms. One room is nearly full, hot, and energized with conversation. The other room is empty, cool, and soon to be filled with delicious food. Being the introverted social butterfly that I am, I hang out in the hot room to chat with friends. One of the great things about SIX x ATE is that if you know the local arts scene, you can catch up with a ton of people all at once. If you don't know many people, you soon will.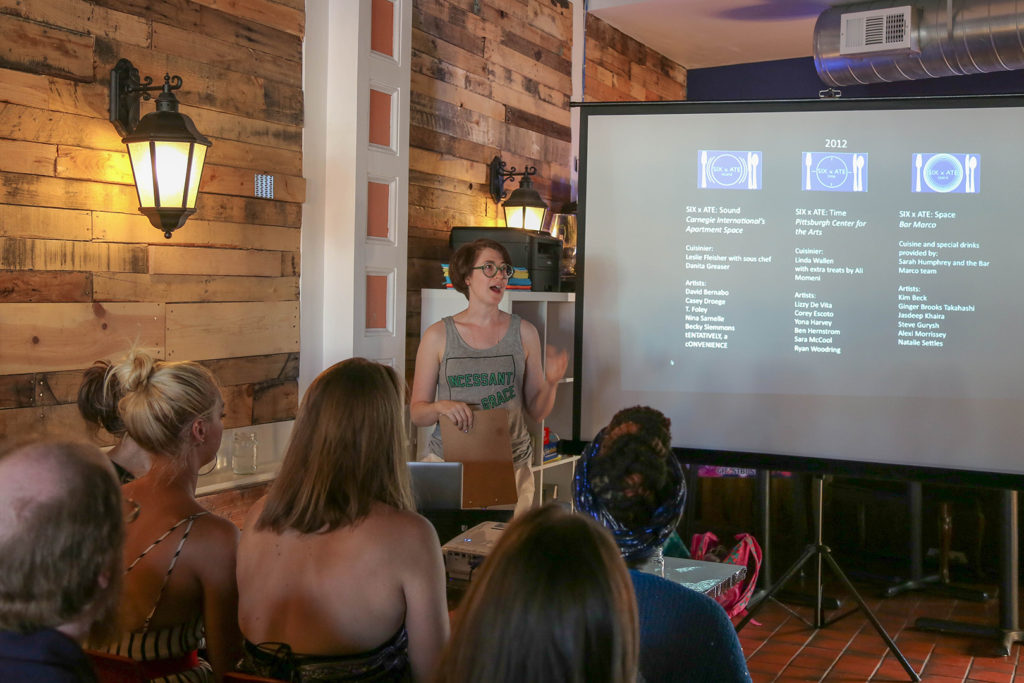 6:36 PM: The Beginning
MC Casey Droege takes the mic while sporting a t-shirt that reads "Incessant Grace." The audience is treated to a rundown of the rules—six speakers, five minutes each, drinks can be purchased at the bar. Scratch boasts the most Pennsylvania-distilled liquors of any bar in town.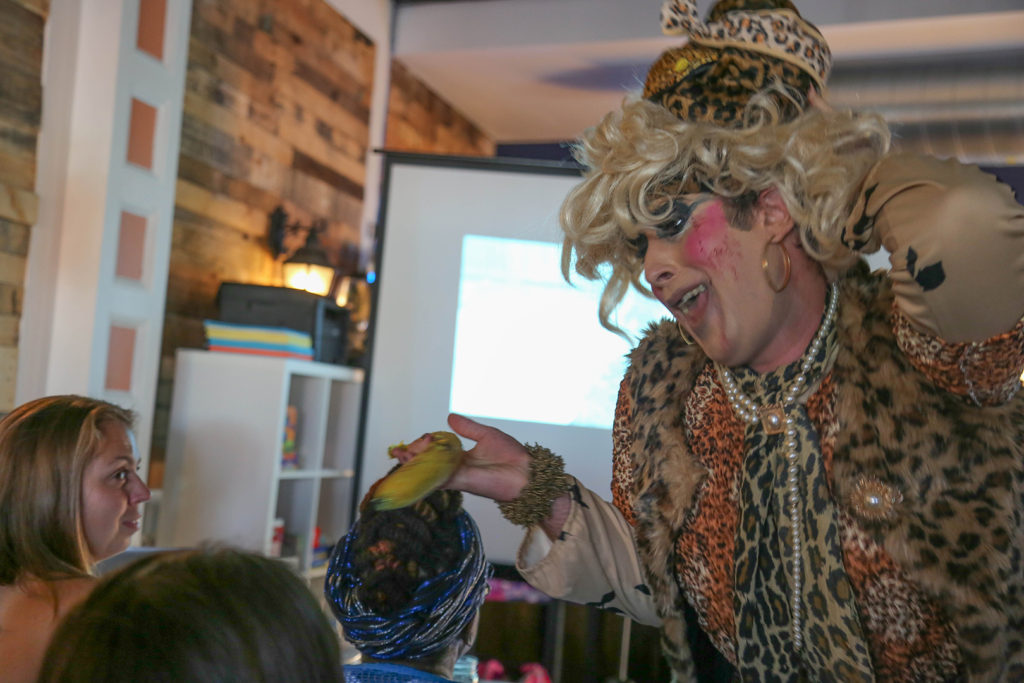 6:40 PM: Scott Andrew
A wave of art-making blending new age, self-help instructional videos with PR and marketing tropes, all under a pseudo-cosmic glaze, washed into Pittsburgh several years ago. Led by Scott Andrew and the Institute for New Feeling partners Nina Sarnelle and Agnes Bolt, the trio boasted a number of impressive products that doubled as art installations, videos, and documentary photos: An "accelerant for the face and body" called "Furthering Cream," an "Air Freshener" that dispenses oxytocin, and a set of edible mochi "Earplugs."
For SIX x ATE, Andrew, performing solo and layered in numerous animal prints while channeling Dusty Springfield, fuses sound and video, for a humorous, explosive multimedia live performance. Lip-syncing to a video of himself lip-syncing to a video of "Mamma Said," Andrew eats several bananas and recites lists of products or concepts, like "edible contagion." I am treated to an extremely close-up view of the performance. All in all, a fun start to the evening.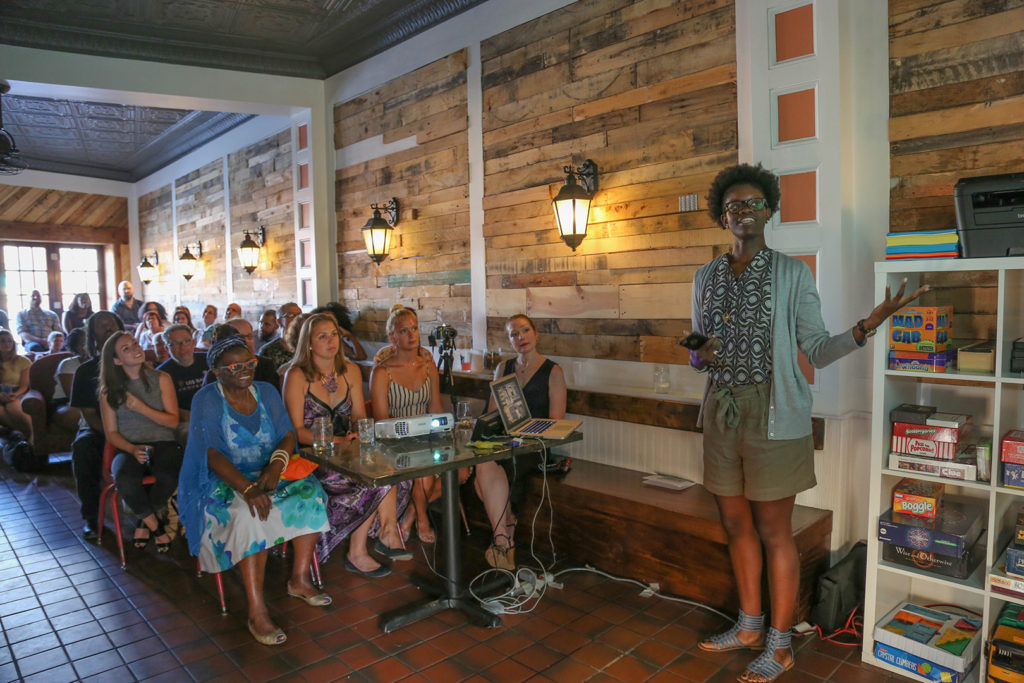 6:47 PM: Njaimeh Njie
Multimedia producer Njaimeh Njie's work focuses on social justice and cultural enrichment, and along with other creative and commercial film projects, she has produced the wonderful Power(ed) by Grace documentary series.
With Njie's stark video stills and photographs in the background, the presentation equates glitter, a substance seen as one-dimensional or written off, with larger society's perceptions of the black community. Njie discusses how her work strives to show the full depth of persons of color, giving space for black women to expound on what black womanhood means to them: pride and power, bettering future generations of family, dealing with struggles of outside perception, dealing with disappointment in society and society's reflection back on the self, and finding agency to break out of molds.
Njie ends the presentation by updating the definition of glitter to a potent, powerful material, thereby updating the analogy to view black people as fully embodied "instead of beings to question."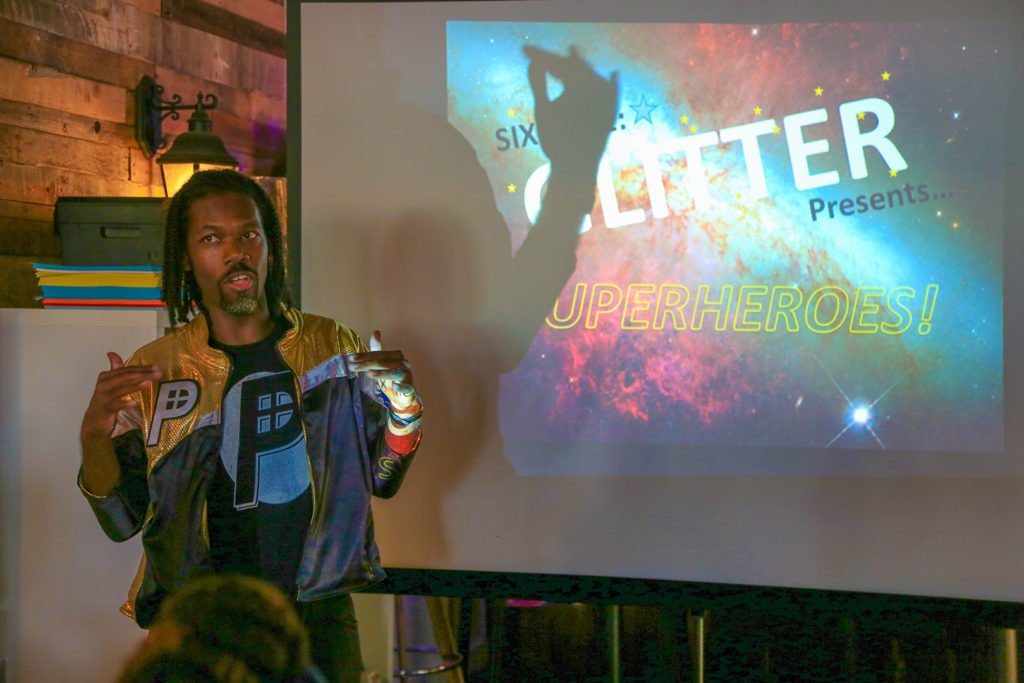 6:53 PM: Marcel Walker
If you combine Superman, pop star Michael Jackson ("the living definition of lens flare"), and comic artist Marcel Walker, you get "The Pro," a superhero character out of Walker's HERO CORP., INTERNATIONAL, an ongoing comic book series set in the city of "New Pittsburgh" that explores the world of corporate American superheroics.
Sporting a jacket with a stylized "P" on it, Walker discusses the balance of making art vs. making a living and how two key grants, the Advancing Black Arts in Pittsburgh grant from Pittsburgh Foundation and a GPAC Artist Opportunity grant, have allowed him to work towards the next edition of HERO CORP., INTERNATIONAL, due early 2017.
If Andrew focused on performance and Njie's presentation was message-driven, Walker provided a clear window into his person, his humor, and general excitement for creating.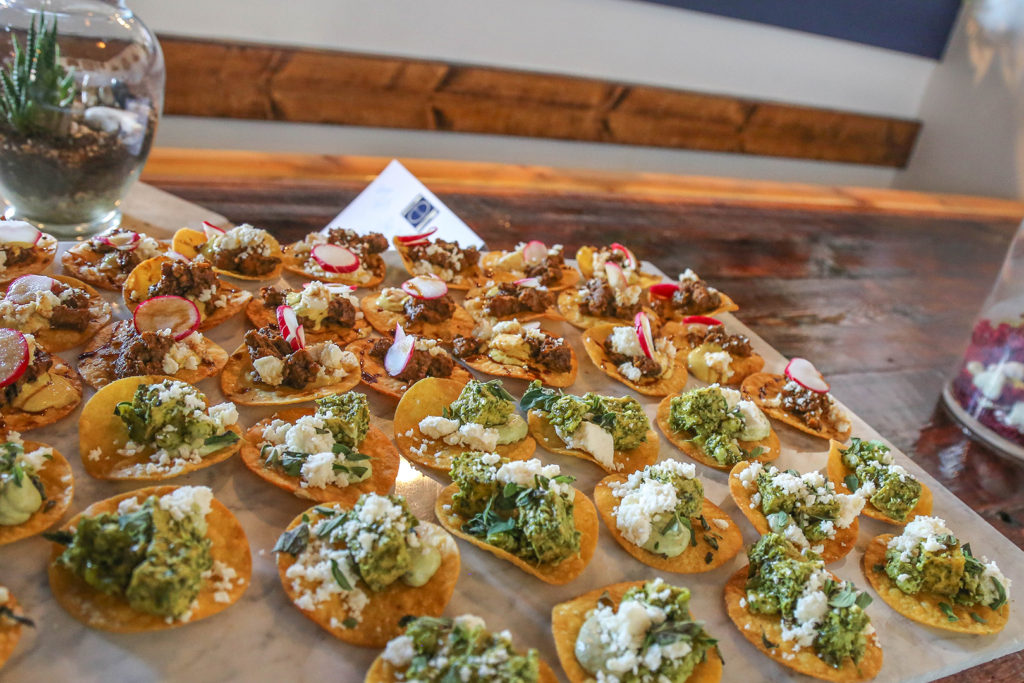 7:02 PM: Dinner time
Dinner,from chef Matt Petruna, consists of two types of tostadas, a gluten-free leaf lettuce variant, and delicious arancini. All were rather exceptional, but since the tostada was hard to bite into, and because of a lack of utensils, many people dropped their food on the floor. During dinner time, I was able to catch up with artist Carlea Cannon. We discussed her long-running series of junk food paintings currently hanging at Constellation Coffee in Lawrenceville.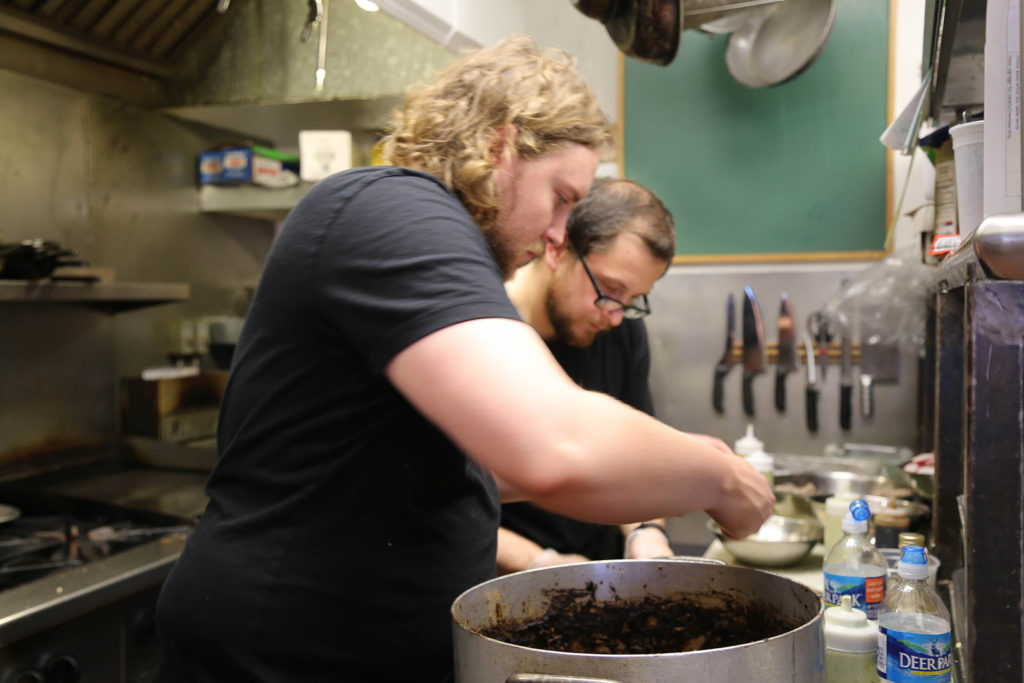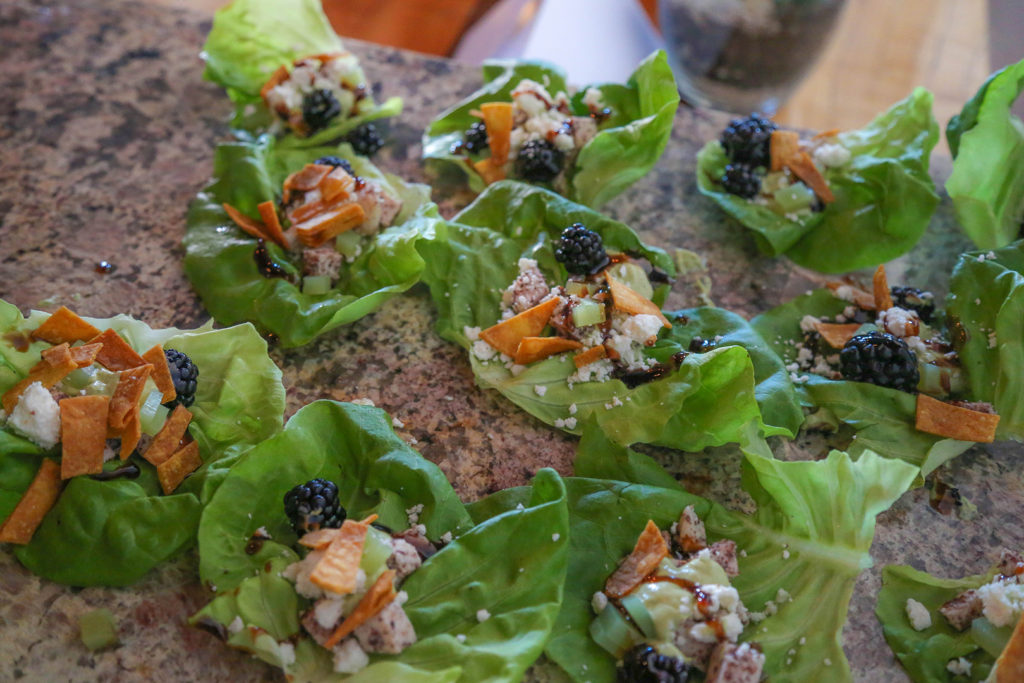 After seconds and thirds, I returned to the bar for the second round of presentations.
7:46 PM: Hannah Altman
Kicking off the second half of the evening, photographer Hannah Altman discusses how the all-too-common scenario of a man telling a woman to "smile" led to a photo series where she shoved glitter into her smiling teeth. As it turns out, that photo series And Everything Nice went viral—readers of Vanity Fair, The Huffington Post, Buzzfeed, and VICE were treated to images of glitter-skinned knees, glitter-soaked noses, glitter tears, and a figure vomiting green glitter into a toilet.
Altman speaks about using her art as a platform to discuss issues of societal pressure to keep an attractive appearance and to censor the natural—topics that were mirrored in some of the reactions her imagery provoked.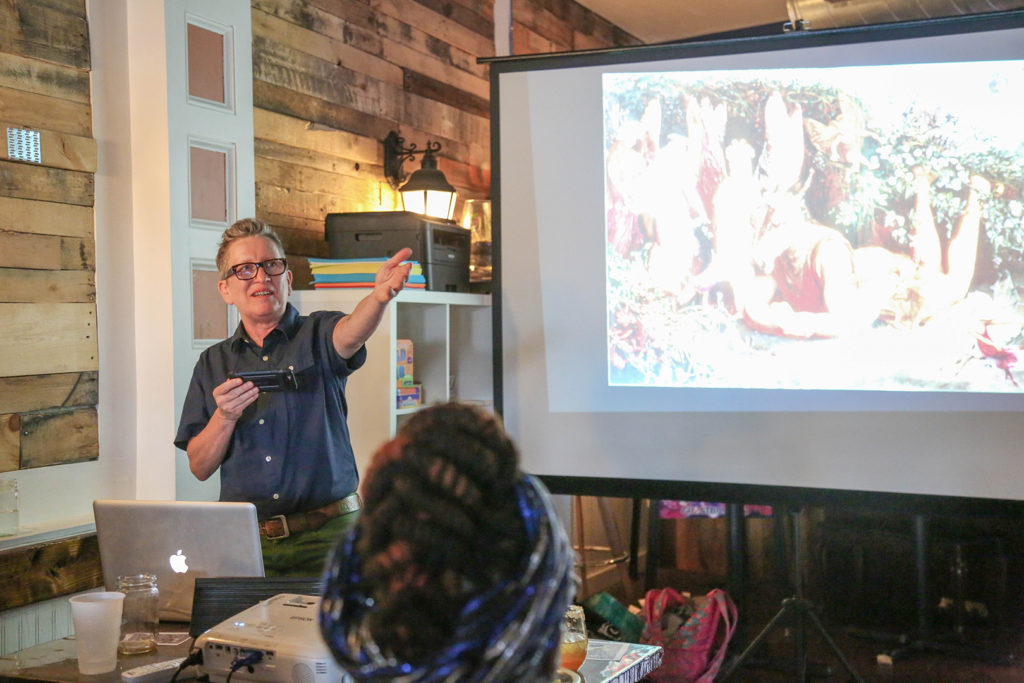 7:55 PM: Suzie Silver
If Pittsburgh has art superstars, Suzie Silver certainly qualifies. Silver's queer performance and video work have been viewed from New York to Los Angeles, as well as internationally, in places like South Korea, Germany, Italy, and Brazil. Let's just say she has an impressive CV.
For tonight's presentation, Silver screens a non-binary, gender-fluid, kid-friendly video from her Fairy Fantastic series before launching into a hybrid manifesto/spoken artist statement detailing the inspirations for the project and how fairy tales have traditionally used themes of degradation and role reversals to convey tales of amoral morals. Being a big fan of folktale forms, my interest is piqued.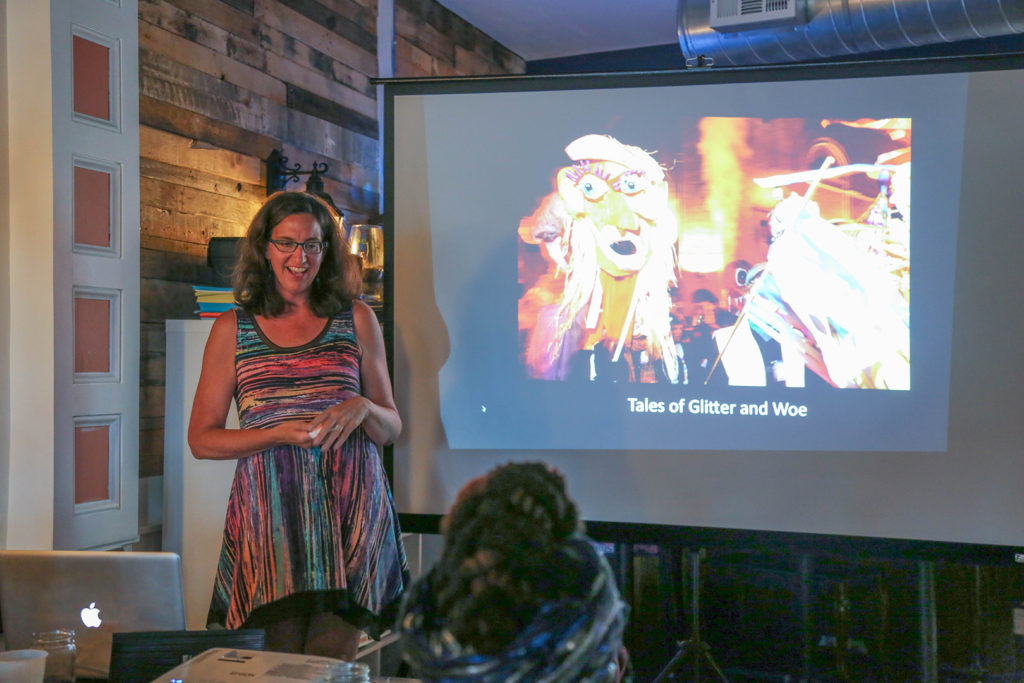 8:03 PM: Cheryl Capezzuti
Barely able to contain her excitement, artist and puppet maker Cheryl Capezzuti presents "Tales of Glitter and Woe," a talk addressing her conflict with architects and artists who rarely take glitter seriously ("the cool people don't use glitter"). Capezzuti details how her initially small puppet creation grew bigger and bigger and how that acceleration created a community of collaborators and puppet makers and "glitter fiends" (her children). The presentation ends abruptly at the five minute mark with Capezzuti telling a story of how glitter gets everywhere, especially when her children tracked it through their entire house, hiding an especially big pile of it under a pillow.
8:07 PM: Dessert
I sit at a booth eating the delicious, berry-heavy dessert, watching a steady line of people accidentally drop their food, reminding me of just over an hour ago when Scott Andrew's performance left a trail of bananas on the floor.

I'm not sure if there are any big takeaways from SIX x ATE. At best, you meet a bunch of new people and make new friends, spark new collaborations, gain opportunities for your own work, and get your mind blown by the creations coming out of Pittsburgh's artists. At worst, you get a good meal and hear a bunch of short statements from artists doing diverse and interesting work. So, pretty good either way, right?
The next SIX x ATE is happening on August 6 at City of Asylum with food from Leena's Food Truck. Check Casey Droege's website for more information.