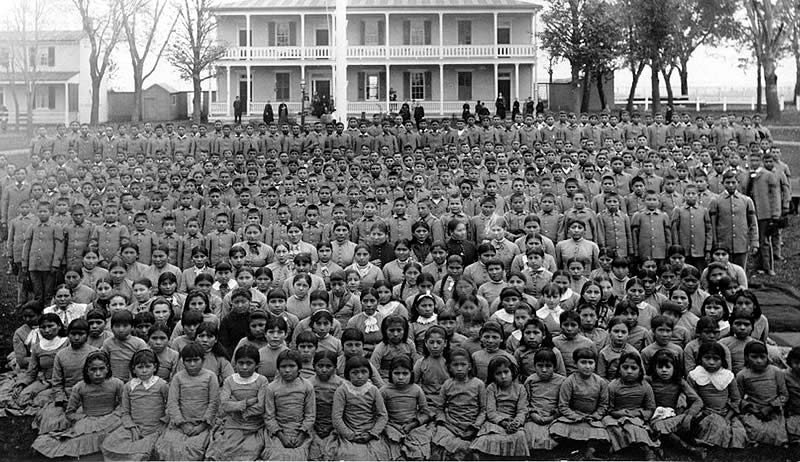 at the site of the former carlisle indian industrial school
we cried at the army war college gates
as the guard asked us for i.d.
i imagined the terror of the 10,000 indigenous
children brought here in handcuffs
taken hundreds of miles
from their home communities by train
forced to leave their grieving families
the army took the majority of children
from tribes they wanted to suppress most
the children were made to cut their long hair
their native clothing and ceremonial objects
confiscated
our car searched
protocol for all army base visitors
the feeling of being under surveillance
as we walked through the fenced-off graves
many children died as soon as they were brought here
the legacy of indian boarding schools began here
the graves marked 1879  apache  sioux  unknown
we walked through tombstones
of native children who died
for refusing to let their spirits be broken
the carlisle boarding school a symbol
of systematic eradication
of indian ways of knowing and being
an unspoken history
of mass kidnapping and forced industrial labor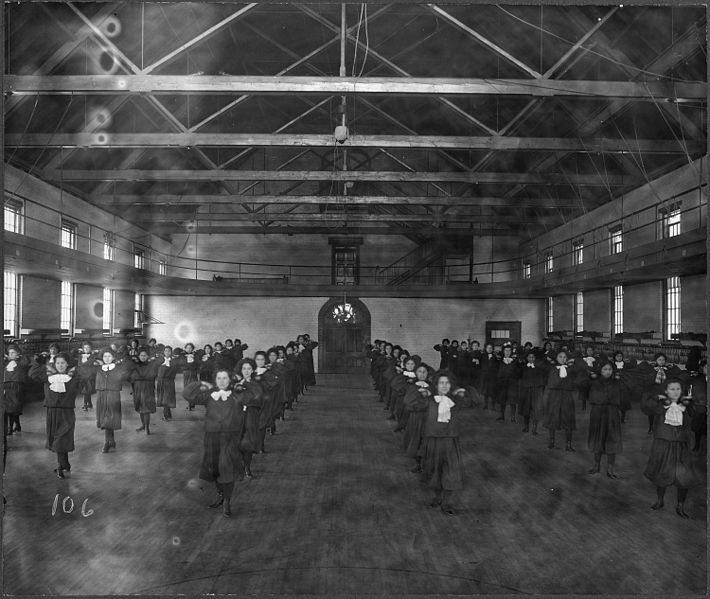 *
it really affected us to lose our children
my friend said
burning sage
as we walked through the residential school grounds
the air keeping it lit
crows in the trees watching over the children
our ancestors want us to be happy1
*
a military industrial complex has operated on the land
that's now carlisle, pennsylvania since the 1700s
when george washington traveled the territory
of iroquois and lenape
giving chief alliquippa liquor
before dislocating her
from where the rivers were tended by mothers
who've climbed the wind since time immemorial
*
Later all the promises were broken and the settlements spread into
the territories.
It's always the broken that holds the universe in place.
(Kazim Ali, "Carlisle")
smallpox-infected blankets
were knowingly given to indians at fort pitt2
by u.s. soldiers in the name of peace
the allegheny river flooded by kinzua dam in 1957
a third of the seneca reservation washed away3
the grief i feel
at how little the truth of the native experience is publicly acknowledged
in the state of pennsylvania
when natives are referenced it's often from a clinical narrative
that the only good indian was a dead one
*
firsthand accounts such as suzan shown harjo's truth-telling on the carlisle indian industrial school paint the most accurate pictures:
Elsie Davis (Wah-stah) was Bull Bear's youngest child. She died of consumption 1893 and was buried at CIIS; dug up and buried again to make way for a road, a stadium and then a building; buried, perhaps, in what is now the historic cemetery, a mass grave of CIIS captives, where it's doubtful that any of the 186 Native young people are buried near the tombstones etched with their names.
That cemetery and the Guard House were considered worthy of preservation by the National Register of Historic Places. I agree, because they are history, but also because they are evidence. That small dark prison holds the blood and memory of those who could not or would not do what was demanded of them. DNA is in the cold stones of the walls and floor; bones and spirits were broken there.4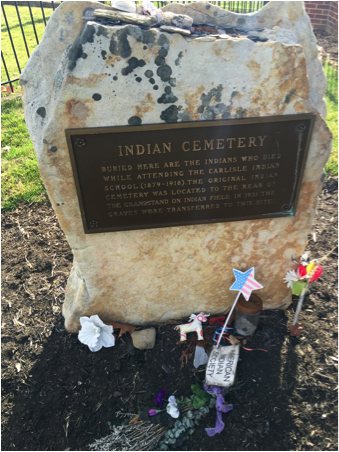 a mass grave at the back of the carlisle residential school
was dug up for a road  gymnasium  army barracks
the bodies of the 186 children who died at the school
transferred to a cemetery off the highway in the 1930s
186 is a low number next to accounts stating that of 10,000
students who attended carlisle one in ten died there5
*
the native children were made to work
in local farms or houses as servants in the summer
instead of being allowed to return to their tribal homes
some kids were sent back to the wrong communities
*
tiny horse dolls rested
at the foot of each child's tombstone
brightly colored with shiny copper
lined with coins  rocks and shells
horses carry the children through fences
into forests
mountains and river valleys now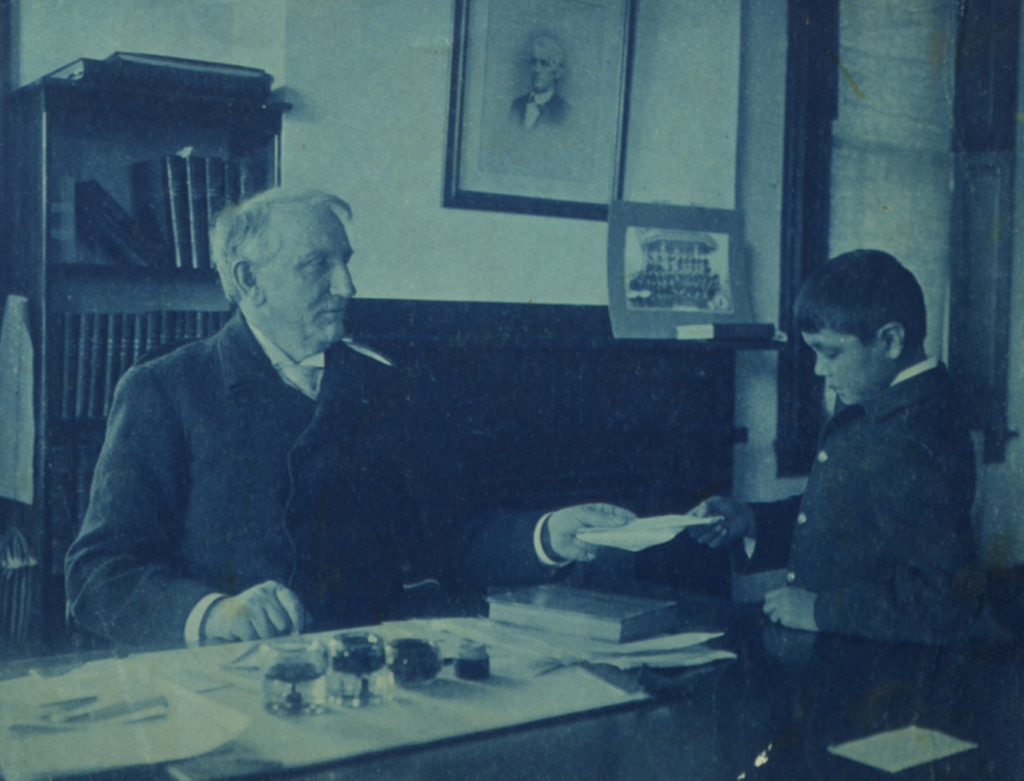 *
my friend burned sage in the white colonial mansion
where native children were made to obey
richard pratt  the founder of the carlisle indian school
pratt's mansion was not presented like a holocaust
museum
it was a colonial parlor
of a modern officer's home
open to the public with a guest book
normalized as if a family project
filled with knickknacks and photos
of native children
dressed like servants in rough white clothes
the wind carried sage smoke through the parlor
wind smoke over a photo of pratt posing sternly
next to a young native boy
let me tell you mister teacher when you say you'll make me right
in five hundred years of fighting not one indian turned white
(Jim Pepper, "Drums")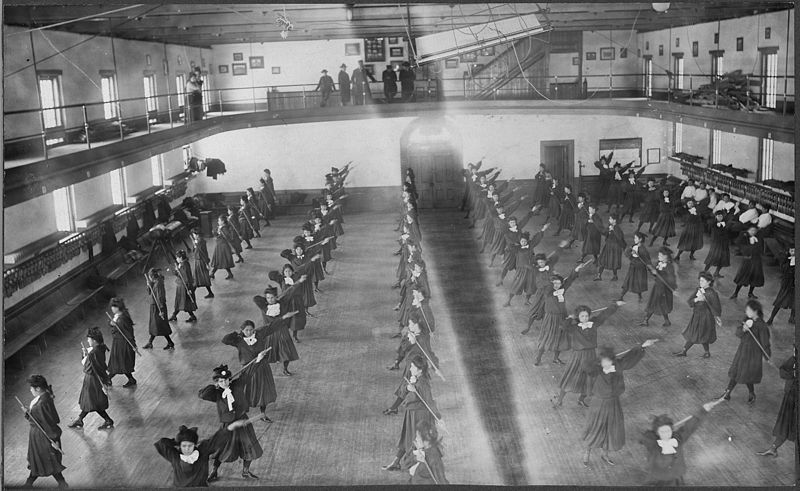 *
the legacy of indian boarding schools
like carlisle paved the way for implementing
policies that allowed the united states to justify
taking native kids from their families
and putting them in white foster homes
in the 1950s and beyond
the nuns would wake me in the middle of the night
and drag me to a brightly lit room
where i was made to repeat words over and over
until i pronounced them correctly
i watched as the younger children were beaten with switches
and forced to eat food from the floor like dogs
(Tanya Tagaq, "Got to Build My Fire Up")6
did they notify native parents by letter
when their children were killed
by corporal punishment?
*
the abuse of indigenous north american children
in their own land by outsiders has been legislated
through government policies
such as the doctrine of christian discovery7
how do i confront the truth
of what really happened here
in opposition to the legacy
of an illegitimate society
based on lies
a legacy that has caused indigenous to experience traumas
of poverty  illness  suicide  incarceration  and violence against women
at far higher rates than national averages
*
Carlisle where soldiers are trained and Indians were brought to be
forced to forget.
Never did I think when I arrived there that it would be the place I would
sort myself out and dare actually to speak.
(Kazim Ali, "Carlisle")
thankfully millions of indigenous have
survived 97% population depletion8
now tribes are rebuilding their nations
practicing their cultures
using love to heal one another
making artistic  scholarly  social justice contributions
creating legislation to protect
native rights and the rights of native children
resisting colonial pillaging and domination9
needing our earth left intact
*
I love you, I need you to survive
(Joyce Hobson Johnson, "I need you to survive")
feather from three rivers
tree shrines
daffodil hillsides
for you
*
truth and reconciliation commissions
in maine and canada are addressing
the harm inflicted against natives
at the hands of residential schools
and state child welfare systems
seeking truth healing and change
while recognizing that oppression
is not something of the past
it just looks different now10
royal canadian mountain police coming out against native women drumming to protect
their homelands against fracking
as law enforcement fails to protect
thousands of missing and murdered indigenous women
we need contradiction to loss
with laughter
health and wellness
it was prophesied
that healing would begin
in the east
we learned we had to
take it from the head to the heart11

1 Maine-Wabanaki REACH, "Beyond Crime and Punishment: Fostering transformative justice in our communities" (presentation, American Friends Service Committee, Wallingford, PA, March 12, 2016).
2 "Jeffery Amherst and Smallpox Blankets: Lord Jeffery Amherst's letters discussing germ warfare against American Indians," accessed March 26, 2016, http://people.umass.edu/derrico/amherst/lord_jeff.html.
3 "Dam Indians: The Allegheny River," accessed March 25, 2016, http://www.dailykos.com/story/2010/3/23/849691/-.
4 Suzan Shown Harjo, "Carlisle Indian School's History Must be Preserved So Those Who Suffered Aren't Forgotten," Indian Country Today Media Network (2012) http://indiancountrytodaymedianetwork.com/2012/10/11/carlisle-indian-schools-history-must-be-preserved-so-those-who-suffered-arent-forgotten.
5 Rebecca Sockbeson, "Cipenuk red hope: Weaving policy toward decolonization & beyond" (PhD dissertation, University of Alberta, 2011), https://era.library.ualberta.ca/files/w08929935.
6 Christos Hatzis, Tanya Tagaq, Steve Wood, Northern Cree Singers, Winnipeg Symphony Orchestra, Tadeusz Biernacki, Going Home Star: Truth and Reconciliation, Act II: Act II: I Got to Build My Fire Up, CD, Centrediscs/Centredisques, CD 1695, 2015.
7 "From Doctrine to Declaration," accessed March 26, 2016, http://www.doctrine2declaration.org/.
8 Rebecca Sockbeson, "Cipenuk red hope."
9 "United Nations Declaration on the Rights of Indigenous Peoples," accessed March 25, 2016, http://www.un.org/esa/socdev/unpfii/documents/DRIPS_en.pdf.
10 "Beyond the Mandate: Continuing the Conversation, Report of the Maine Wabanaki-State Child Welfare Truth & Reconciliation," accessed March 25, 2016, http://www.mainewabanakitrc.org/wp-content/uploads/2015/07/TRC-Report-Expanded_July2015.pdf.
11 Maine-Wabanaki REACH "Beyond Crime and Punishment."