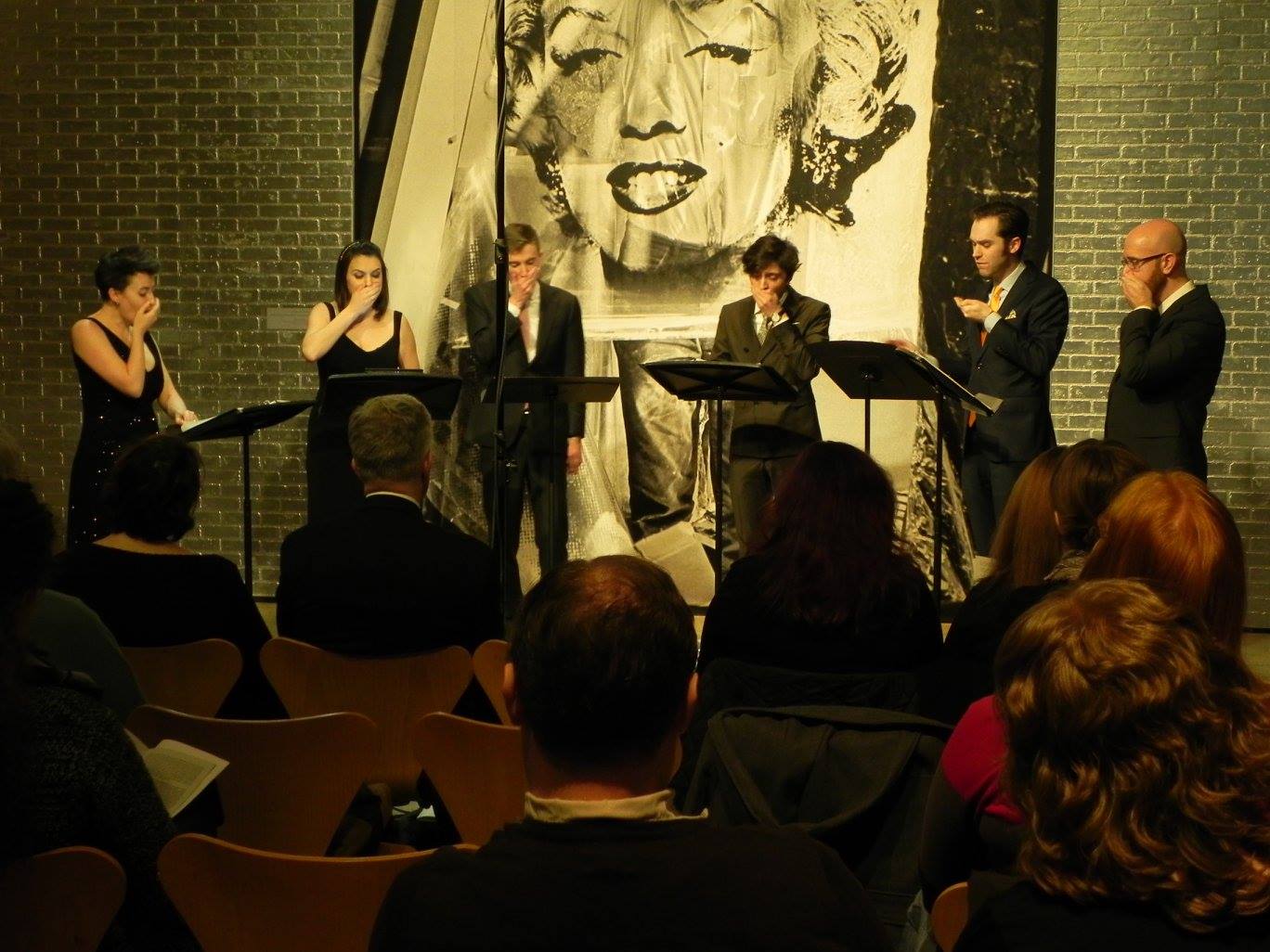 Music on the Edge, the University of Pittsburgh contemporary performance series co-directed by founder and composer Eric Moe and composer Mathew Rosenblum, has been delivering thought-provoking concerts in Pittsburgh for 25 years. This season's program brought together New York-based vocal ensemble Ekmeles, chamber works from renowned trombonist George Lewis, Bang on a Can's Vicky Chow crushing a Tristan Perich piece for piano and 40-channel 1-bit electronics, and a weekend celebrating intersections in Chinese, Japanese, and American composition.
Tomorrow, MOTE concludes with two performances of Cineshape, an interdisciplinary composition by Amy Williams drawing inspiration from films such as The Lives of Others and Run Lola Run, performed by the JACK Quartet, flutist Lindsey Goodman, percussionist Scott Christian, and Williams on piano. Alongside the musical performance, video artist Aaron Henderson has created a program of scientific footage, from shots of highly magnified chemical reactions to NASA videos. Cineshape will be performed twice at The Andy Warhol Museum during the evening of May 4, 2016.
I caught up with Eric Moe and Mathew Rosenblum on a sunny Sunday afternoon to talk about MOTE's history and influence in Pittsburgh.

David Bernabo: What are the origins of Music on the Edge (MOTE) and what was the "new music" scene like when you began the series?
Eric Moe: Well, there was one ensemble in town, the Pittsburgh New Music Ensemble [PNME], directed by David Stock. And I moved here from San Francisco in 1989 where I founded an ensemble called Earplay. I thought a town like [Pittsburgh] needs more than one new music ensemble. San Francisco, at that time, had at least three pretty flourishing new music ensembles, including the one I had founded. San Francisco had about 300,000 people, Pittsburgh had about 300,000 people, so I figured, why not?
I made it a condition of my hiring [at the University of Pittsburgh] that I be given a little bit of money to try to mount an ensemble. Once I got here and started doing it, I wanted to complement what David Stock was doing and not get in his way. What I wanted to do was have small chamber ensembles, virtuosic, mostly unconducted playing, and David wasn't doing that—he was doing large, conducted ensembles. For me, it's like a jazz combo instead of a big band. I thought this would be a great series to perform music that nobody else was doing.
The next year I brought in Mathew.
DB: Was it a consistent ensemble when it started?
EM: I tried to work with local players, but I had some trouble doing that. At that time, there wasn't enough depth of people who were skilled in new music. It seemed better to bring in people mostly from New York—because it was close—but not exclusively. So, we turned it into a presenting series but always kept some component of homegrown performance, either from faculty or small ensembles in the area.
Mathew Rosenblum: We pushed it into a higher gear around 2000. We had a chamber orchestra, and we brought in Raschèr Saxophone Quartet and had Tim Adams from the symphony, other symphony members, local folks, freelancers.
EM: That was when PNME morphed into a summer music festival. They weren't doing the big ensemble pieces throughout the year.
MR: We went to the Heinz Foundation for funding for that. That was the key point, that there was no longer a larger ensemble that did new music during the regular season, so we wanted to create one. Then we brought in Ursula Oppens to do Ligeti's Piano Concerto with our chamber orchestra. We did a whole Ligeti program for his 80th birthday. Every other year or two years, we've been doing the larger orchestra. But over the years we've developed relationships with Lindsey Goodman, Dave Eggar… There's a small group that we consistently work with. We even did our first New York performance with people from this small group at SubCulture.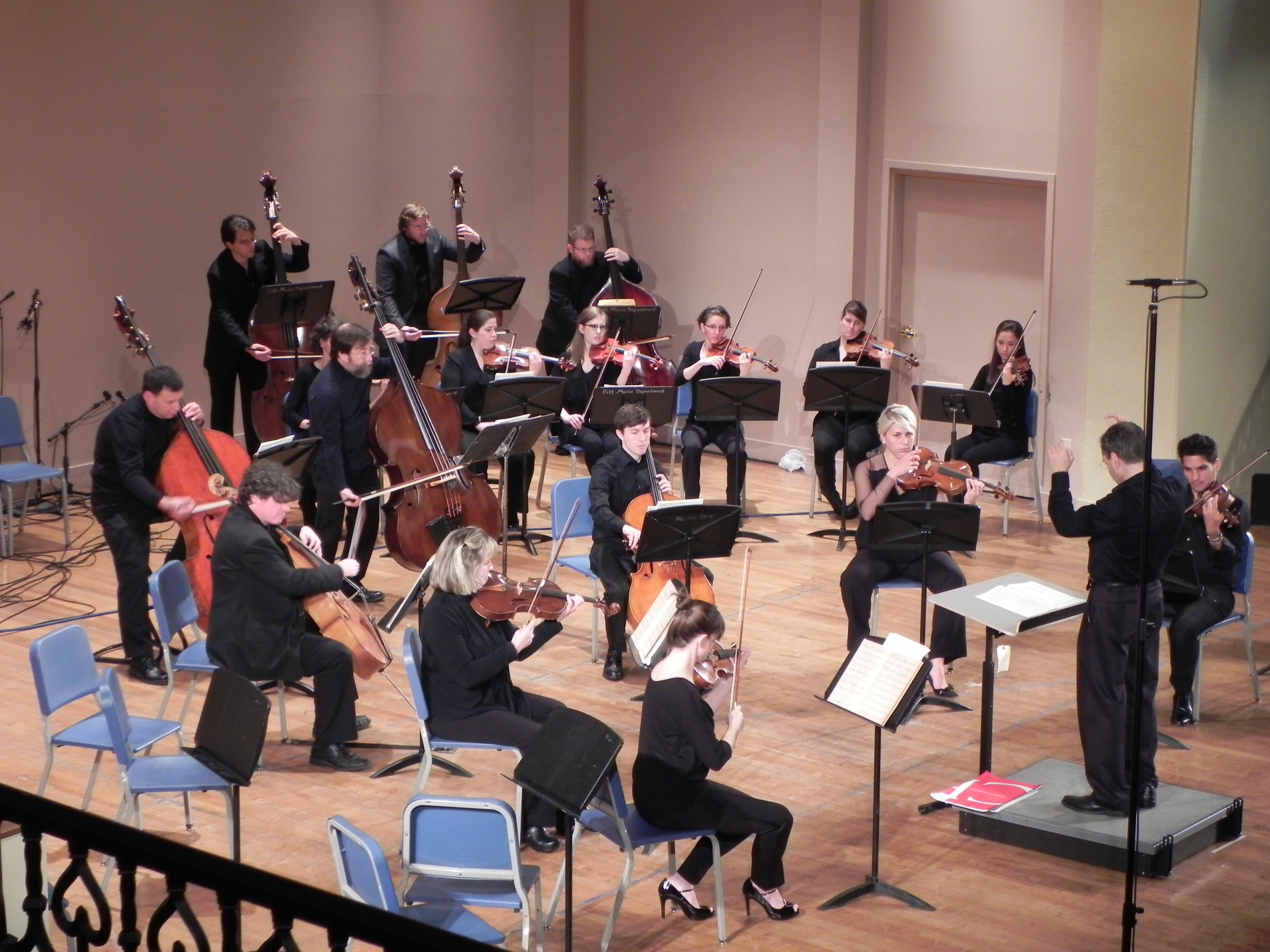 DB: What was the audience like in the first few years?
MR: I think one or two people showed up.
EM: We had an audience. It was small. We didn't have any money for PR at that time. I disdained PR, because what money I had, I wanted to spend on musicians. I remember the local papers being sort of puzzled as to what to do with this. I remember a listing that read, "MUSIC ON THE EDGE; [and then] ELECTRIC BANANA." We were showing up in the rock listings, sometimes the jazz listings.
MR: It was tough. The audience was small. We did most of the concerts on campus, at the Frick Fine Arts building and then Bellefield Hall, where we had a better sound system. But it seemed that people didn't want to go on campus to hear new music. Some events did well, like when we had big composers like Paul Lansky come to do concerts of their music. But audience was the key problem. That's why we couldn't get outside funding. That became a project of mine: funding and audience development.
We first got a grant from the Pennsylvania Council on the Arts for $1,400 or $700 or something, where I spent so much more time writing the grant. But it started the ball rolling with funding, and eventually Heinz and the Pittsburgh Foundation funded certain projects—one of which was Pittsburgh Premieres. We put a call for scores out for Pittsburgh composers. We got twenty-something scores in the mail. We put on this three-day festival, which was sort of the turning point, because we were featuring the community of Pittsburgh composers rather than reaching outside the city.
EM: At that time nobody knew there were that many composers in Pittsburgh. And there really weren't that many. I think we did them all.
MR: We pretty much played anyone's music.
EM: Anyone with a pulse.
MR: The other turning point was with the Warhol Museum. In 2007, we did a collaboration with Manny Theiner and the Warhol Museum [of] two accordionists, Guy Klucevsek and Alan Bern. It was a great concert. I think it sold out. But that's how we got our foot in the door. Then, Ben Harrison approached us and said, "Well, maybe you guys want to do more stuff here." Since then, we've done more and more concerts at the Warhol, and the audience has completely changed. Now, we can consistently bring in 100 folks and sometimes we sell out, which is about 130.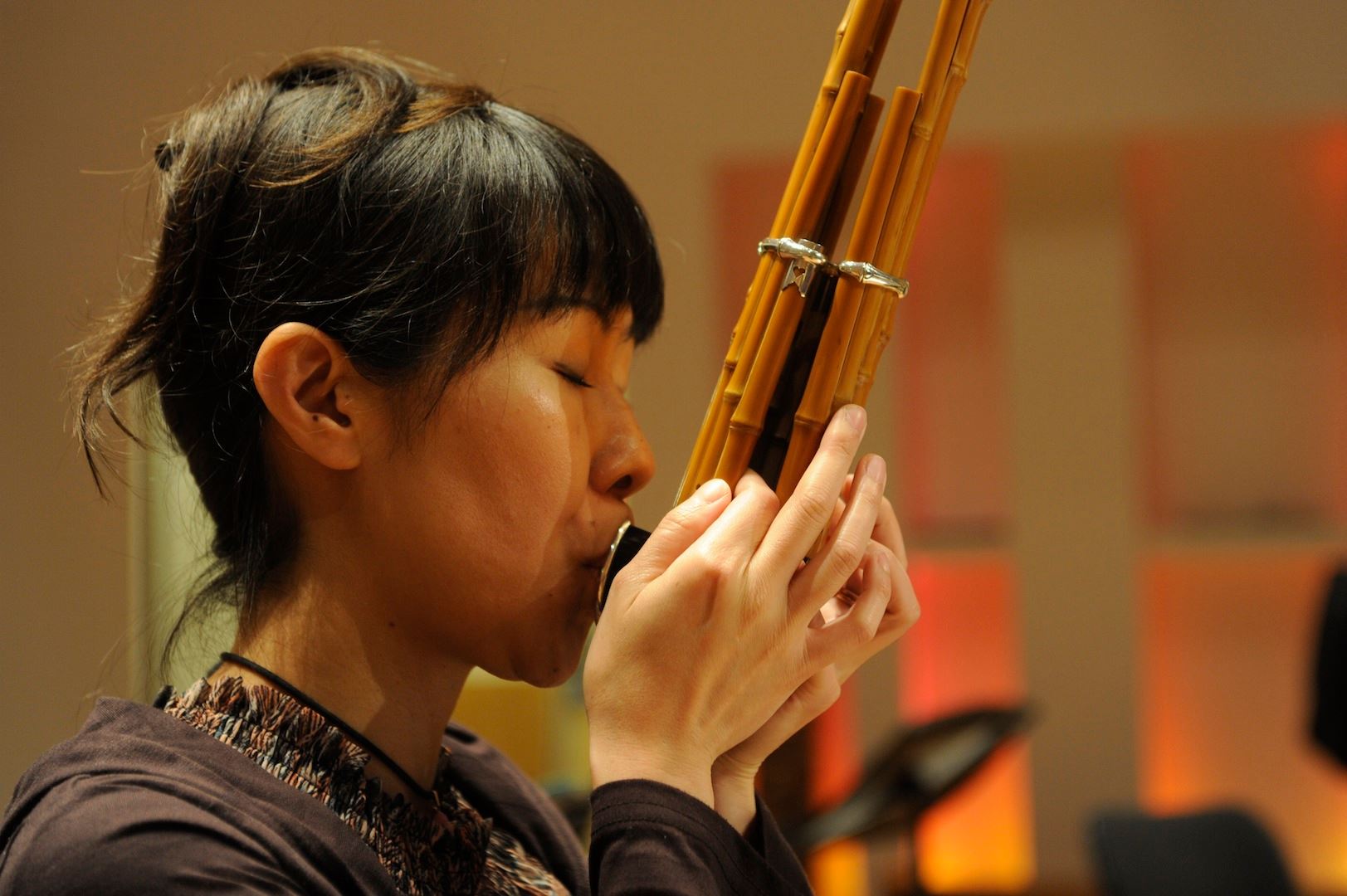 DB: Does that signify a transition from academic or student audiences to more of the public?
EM: Probably, although we never had that many academic students in the audience. I mean, we always tried.
MR: They don't show up. [Laughter]
EM: We offer free tickets, but it's always been the die-hards, people who are really interested in contemporary art music. It's a niche that people care about very deeply. Back when the New York Times had a Letters to the Editor section in the Arts page, it always amazed me how many letters were written and published by people who were into new classical music. I mean, just passionate! The invective championing of things. People cared a lot about it.
MR: We don't pander to the audience. We try to bring them to us.
EM: Many of the performers have commented on and complimented us on the savviness and enthusiasm of the audience. For me, that's worth more than having butts in seats—to have 100 people that really want to be there and are really grooving on what's happening.
MR: That's really true. Folks that play in New York, even at the new venues, National Sawdust or wherever, they come here and say, "Holy crap. This is fun; this is vibrant." In New York, it gets a little jaded. You see the same people at every concert.
EM: And it's usually less than 100 people.
MR: So, we have a pretty good thing when you look at the big picture.
DB: Is there a pathway to sustainable funding to support contemporary music?
MR: We do have some funding from the university, but more and more, we've been getting outside grants. It's about half and half now.
EM: But I'm not sure music can really do it without external support. You would have to charge so much for admission, you would cut down the audience even further. It's the selling a pencil for $10,000 kind of problem.
MR: It's not just us. Pittsburgh Opera or Pittsburgh Symphony Orchestra: They can't live on ticket sales.
EM: We're resisting the impulse to ask performers to donate their time for exposure, because you can't get the best people and it's unfair.
MR: Exactly. That's our biggest expense, our artist fees. We pay the going rate. We don't cut corners there.
DB: How have the music and curation evolved?
EM: The series has always been composers that we are really interested in, and to a lesser extent, ensembles that we trust to bring an interesting program. You can play music by great composers and yet have a program that doesn't work very well because the pieces aren't interfacing with each other.
MR: We've also had thematic programming, the Morton Feldman Festival, the Microtonal Festival, Asian Fusion Festival. We have a board, and we consult with other folks as well: Amy Williams, Roger Zahab.
EM: And local visual artists.
MR: We have a support system, but the core of the series is excellence in performance.
EM: And excellent music. My mission with my group in San Francisco was to make the best performance that we can. Because a mediocre performance isn't going to convince anyone of anything. And the Warhol connection has allowed us to do far more with complex audio and video setups. The electro-acoustic aspect has been there from the beginning, but in the past it used to be a little weird like, "Hey, those loudspeakers did a great job!" But now it's easier to have a human aspect to it.
MR: Amy William's concert coming up [on May 4] has a big video component.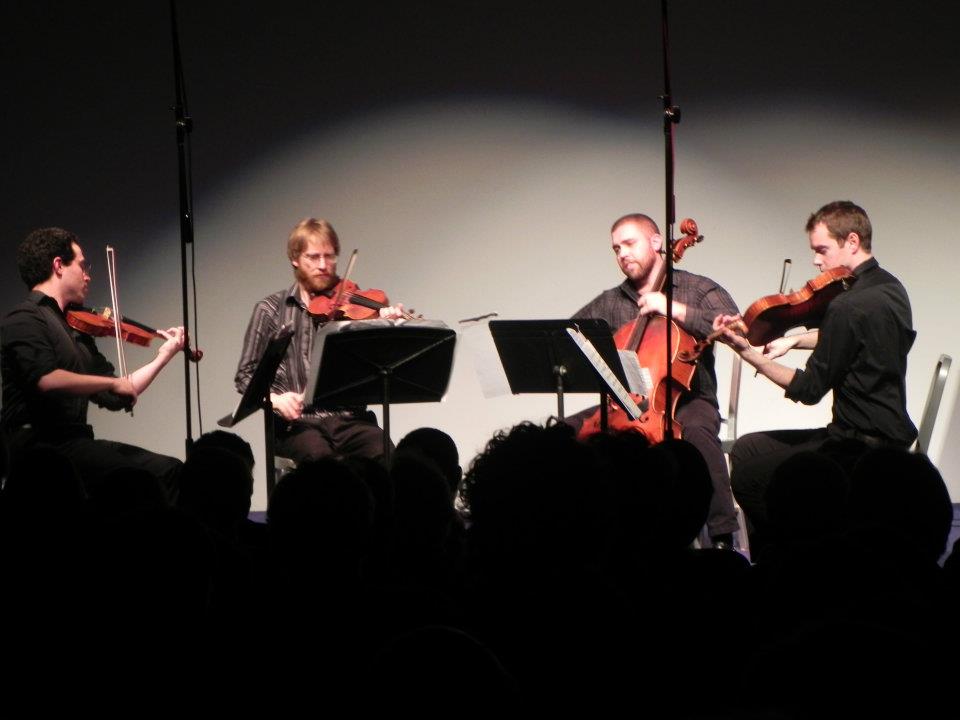 DB: How has MOTE influenced the local ensemble and composer scene?
EM: [Students] have had their pieces performed in recorded readings in our series. They want to stay in Pittsburgh increasingly, because it's the latest cool city to be in, right? I always have arguments with my brother in Portland, Oregon about which city is cooler to move to now. [Laughter]
But students want to stay in town. They want to be active. They saw how cool it was to have a new music series going around, so they started their own.
MR: We have encouraged them for years to play each other's music. It was really Federico Garcia-De Castro's group [Alia Musica Pittsburgh] with James Ogburn, Matt Heap, and Kerrith Livengood that finally did that. An important aspect of art-making is to get it to the public, and they did that. So now we have more students, like Ryan McMasters and Brian Riordan, who are thinking about starting a group that deals more with electronics. All these things are popping up, which is fantastic.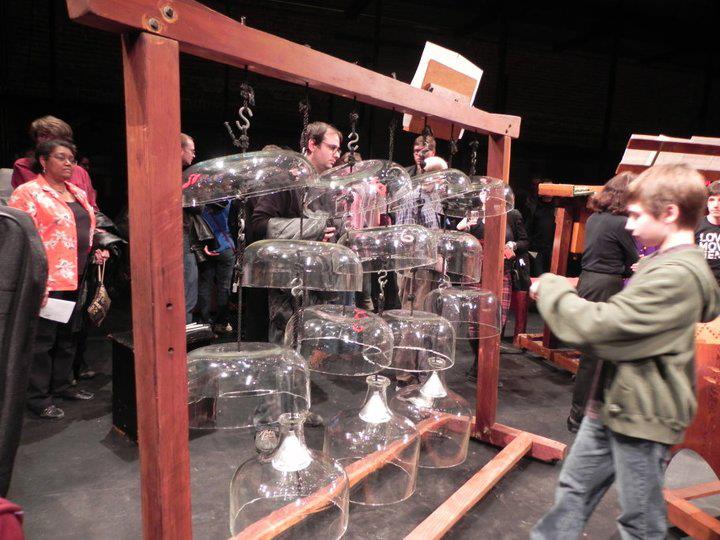 DB: Do you think the audience for these different organizations is hitting a peak?
EM: They are actually rather different audiences. The Alia Musica audience, I don't know many of them. There isn't a great deal of intersection.
MR: There's cross-pollination, but you can see distinct groups. When we're at the Warhol, we see faces that we've never seen before, maybe from the visual arts community or general public, and it's great.
EM: Well, the other day when I was at one of our concerts, this guy comes up to me and says, "It's really great that you're doing this." I ask if he's a composer. "No, no, I just moved here from New York, and I've been looking for something like this." But it seems to me that every group that sprouts develops its own audience.
DB: Is it a marketing issue that causes the separation of those audiences? Or education?
EM: Probably some of it is a lack of a critical apparatus in the city, a universally read or followed [source]. The way social media works is that you'll follow your friends and their recommendations, and we found in our latest audience survey that a lot of our people do get their information from Facebook or word of mouth.
MR: At one point, we thought it would be a good idea to have a central clearing house like they have the new music calendar in New York. So, [composer] Phil Thompson started Pittsburgh New Music Net, so there is that, but I don't know if folks are going there as much as they should.  More could be done on that front. So, social media is the way to go.
EM: But it's also the reason that audiences are not crossing.
MR: Concerts become a social thing. That's a nice thing about the Warhol. You can hang out and have a drink, stand around the lobby. It's the hang, meeting people that are interested in new art. Maybe there needs to be more of a buzz around that aspect. It's a good social event as well as an artistic event.
DB: Maybe a SEEN column for contemporary music concerts. Best Dressed?
MR: Best Haircut. But every organization has their thing that they do. So, MOTE is different than Pittsburgh New Music Ensemble, which is different than ELCO, which is different than Alia Musica. Although Alia Musica is starting to fade into our direction, but that's OK. It's bringing everyone up together, because we need to build the audience together.