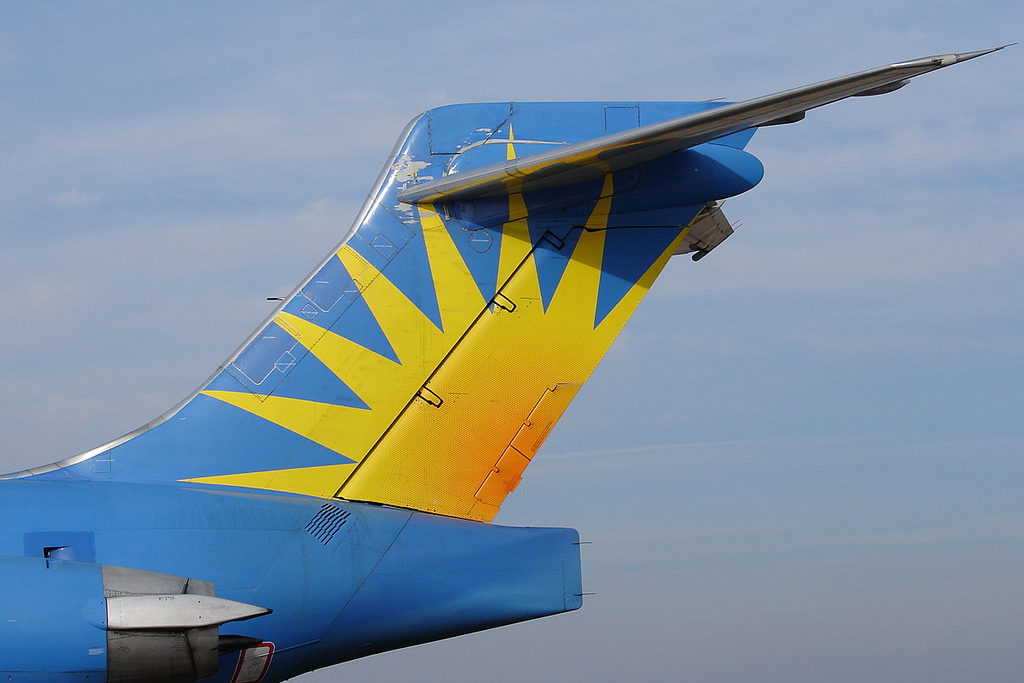 Allegiant Air made news last week after a flight to Pittsburgh from Punta Cana was forced into an emergency landing at Fort Lauderdale-Hollywood International Airport. According to a statement from Allegiant, the clear air turbulence caused a sudden drop in altitude that "resulted in injuries to passengers. Four flight attendants and three passengers were treated at a local hospital and have since been released." One passenger told KDKA the turbulence was rough: "Anything that was loose was on the ceiling."
If you hadn't heard of Allegiant before this incident, you're not alone. It's one of a handful of new-ish, "ultra low cost" airlines moving into mid-sized, under-served markets, often linking them to sunny vacation destinations like Las Vegas or Florida. Allegiant makes no secret that they're no-frills, but there's a growing chorus of people, including some pilots, raising concerns about the company's bare-bones business model's safety considerations.
Allegiant began offering flights out of Pittsburgh International Airport in February 2015, inaugurating itself with a "tacky tourist" dress-up promotion. A year later, it added its nonstop route to New Orleans, the first one from PIT in a decade. It now flies to 11 cities, making it Pittsburgh's fourth-largest carrier behind American, Delta, and Southwest in number of total destinations.
Bob Kerlik, vice president of media relations at the Allegheny County Airport Authority, said the airport has a "good relationship" with Allegiant. The airport authority believes it's important to offer low-cost options to its passengers, Kerlik said, adding that Allegiant will be joined by fellow ultra-low-cost Frontier Airlines later this month.

A low fare to New Orleans was enticing for Dan Barrett, and in January he purchased Allegiant Air tickets for himself and a group of friends [including The Glassblock editor and publisher Adam Shuck]. On the day of the flight in March, they arrived at the airport with plenty of time to spare, but about an hour before the flight's scheduled departure, Barrett received a text message saying it would be delayed by an hour. 
"But then we got to the gate and everyone was looking sad and dejected," he says. The plane had not arrived, the flight had been officially canceled, and Allegiant wasn't going to pay to put passengers on other airlines' flights. It did not have another flight that day on the Pittsburgh-to-New Orleans route.
"The trip was ruined," Barrett says. "We were only going [to New Orleans] for three days, so we decided to just leave." He says Allegiant personnel told him they were unable to process his refund at the airport, and that he could get his money back by calling the company's customer service department.
It took several, half-hour phone calls before he got a refund—though it was partial, covering the cost of the ticket only, as baggage fees and a mistaken cancellation fee were still on his credit card. Customer service reps told him they wouldn't be able to send him an email confirming that he'd get his money back.
"Every time I called they told me it was an accounting error," Barrett says, "and that I should have received a full refund."
Allegiant spokesman Brandon Myers said Monday there was an "initial error" while processing Barrett's refund.
"Our agents were eventually able to process the complete refund in mid-April, Myers wrote in an email. "Mr. Barrett and the other passengers on his itinerary also received $100 vouchers for future travel on Allegiant for the inconvenience of their flight being rescheduled." [Update: In a subsequent email Tuesday, Allegiant Media Relations maintained that "Mr. Barrett received the full refund he was due per our terms and conditions."]
But Barrett says his credit card statement shows he's still about $100 short of what he has paid Allegiant.

Allegiant has been plagued by customer service problems—and it's apparently well aware. According to an October 2015 article in the Tampa Bay Times:
"[Allegiant Chief Operating Officer Steve] Harfst and others at Allegiant said they don't spend time worrying about what the media says about them. But something Allegiant officials recently installed on a wall at their headquarters indicates otherwise.

It's a big monitor showing how Allegiant is faring in real time on social media. Blue dots displayed on the screen represent positive online mentions, while red ones show the negative. The bigger the dot, the larger the influence of the social media source.

The summer brought its share of big red dots that tested the mettle of Allegiant's public relations staff."
Three months later, Harfst resigned as COO in a move that was called "abrupt" and which the Tampa Bay Times connected to safety concerns. "We thank Steve for his contributions to Allegiant," said Maurice Gallagher, Allegiant CEO since 2001. Gallagher has a history in the airline industry; he was co-founder of the now defunct low-cost air carrier ValuJet, a company known for a 1996 crash in Florida that killed all 110 on board.
Allegiant Travel Company, the airline's parent company, is healthy from an investor's point of view. Last year, it raked in a net income of $220.4 million, more than twice its 2014 net income of $87 million, according to its full year earnings release. And in its first-quarter 2016 earnings report, Allegiant saw net income of $72 million, which is a nearly 13 percent increase year-over-year—in fact, the quarter that ended March 31 was its 53rd straight profitable one.
But rather than finances, it's the Allegiant fleet's mechanical problems that remain a source of concern. Last summer, amid a stand-off between Allegiant management and pilots represented by the Teamsters Union, Tampa ABC affiliate WFTS reported that researchers had identified mechanical or engine issues that had delayed or diverted dozens of flights. The pilots' union at the time said that Allegiant's fleet was made up of some of the oldest planes in the airline industry, with the majority in the range of 22-24 years old—about twice the national average. Older aircraft like MD-80s cost Allegiant "as little as $4 million" to purchase, Fast Company reported in 2009, "one-tenth of what it costs Southwest to buy a new 737."
Late last month, the Federal Aviation Administration told the Tampa Tribune it had moved up Allegiant's routine five-year evaluation. It will take place later this month rather than its original scheduling in 2018.
Allegiant spokesperson Myers said Pittsburgh has been a good market for Allegiant, noting that the airline designated the airport a base of operations in December.
"It's a market that grew quickly for us," he said.  
For his part, Barrett says he's not likely to fly Allegiant again, despite the cheap fares. "It just seems like they're trying to squeeze as much as they can out of this business model."